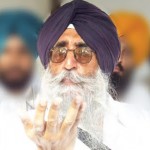 Amritsar, Punjab: Some of the panthic leaders joined SAD (A) chief Simranjit Singh Mann in strongly criticising the RSS chief Mohan Bhagwat for dreaming a Hindu Rashtra. Those present included Giani Gurbachan Singh Jathedar of the Akal Takht, Jathedar Iqbal Singh from Patna Sahib and Jathedar Balwant Singh Nandgarh from Talwandi Sabo.
During a condolence meeting in a local gurdwara held on Wednesday to pay homage to the mother of a Delhi-based granthi, former MP Mann warned that the idea of Hindu Rashtra that the RSS chief had floated may revive demand for Khalistan. There is nothing wrong in talking about Khalistan, he observed.
Launching a scathing attack on the Chief Minister Parkash Singh Badal and Deputy Chief Minister Sukhbir Singh Badal for showing reverence to top brass of the saffron party, Mann said people of Punjab fail to understand why the father-son duo (Badals) fly to New Delhi almost every week to present bouquets to the former Deputy Prime Minister LK Advani even after the latter had conceded in his book that he advised/prompted the former Prime Minister Indira Gandhi to go ahead with the operation Blue Star. Advani equally deserved condemnation for the unfortunate episode, he sought to opine. The Meeri Peeri sword had not been gifted by the great gurus for petty purposes, he added. Mann dared the Jathedars, who were present in the meeting, to make stand of the Panth clear on Bhagwat's statement concerning Hindu Rashtra.
Tarsem Singh chairman of the Dharam Prachar wing of the Delhi gurdwara Prabandhak Committee said Bhagwat's statement deserved condemnation.
If one talks of Hindu Rashtra in the sovereign country the communities of other faiths may also raise similar demand. This will lead to multi-dimensional division of the country on religious andcaste basis, he cautioned.