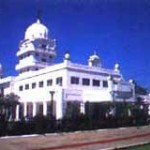 Alamgir, Punjab: Taking note of the suggestions made by the World Health Organisation (WHO) regarding the spread of epidemics, the management committee of the Gurdwara Manji Sahib at Alamgir has launched a crusade against the dreaded H1N1 virus. The devotees coming to pay obeisance at the shrine are being alerted about the swine flu threat through display boards.
Besides, the preachers make reference about the prevention, diagnosis and prognosis of the disease during religious discourses. The management has also coordinated with the health officials to facilitate the awareness campaign launched by the authorities. Kingi Singh, head granthi at the gurdwara, said taking preventive measures at religious congregations was more important as chances of spreading pathogens were more at these places.
"Realising the need of alerting devotees about the possibilities of transfer of pathogens, including H1N1 virus through droplet infection and articles touched by the carriers of the virus, we have urged them to cover their mouth and nose and wash their hands before and after coming to the shrine," said Kingi Singh. He said liquid soap was being provided at various places in the gurdwara. He claimed that coordinated endeavour by the health authorities and religious organisations could prevent the menace from spreading further.