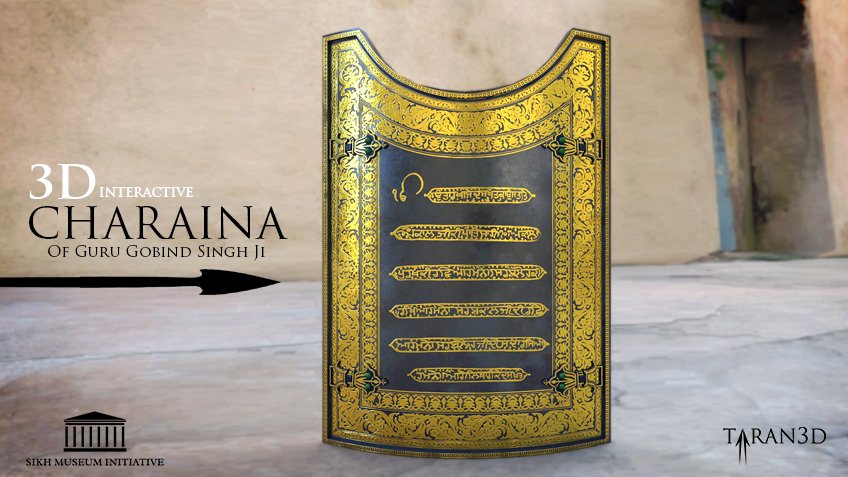 Guru Gobind Singh's armour recreated in 3D
Taran3D has joined with the Sikh Museum Initiative (SMI) to recreate one of the plates from the body armour of Guru Gobind Singh. The body armour commonly known as Charaina or four mirrors has been patterned to bring out the glory of this important historical item.
The first phase of this project was unveiled at several Sikh seminars in the USA in April 2016. The congregation (sangat) was stunned when Sikh scholar Gurinder Singh Mann (SMI) highlighted the interactive digital recreation of one of the four armour plates. This plate features Gurbani from the Akaal Ustat, a composition composed by Guru Gobind Singh.
History
The actual armour was worn by the Guru in the battle of Bhagani in 1688. It was here where he faced the hill chiefs, namely Hari Chand, who showered a number of arrows at the Guru. In his autobiography the Bachitra Natak, he narrates how he is attacked by arrows, one pierced his skin and one pierced the body armour. The Guru recounts
When the edge of the arrow touched my body, it kindled my war spirit 
                           (Jabe Baan Lagyo, Tabe Ros Jagay)
The Technology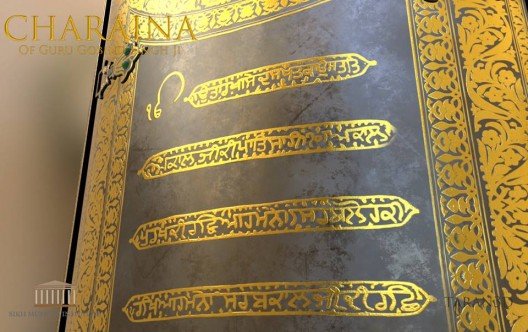 "The ability to recreate and share these artefacts in digital form and make them available via modern technology will give future generations of Sikhs access to pieces of history which are either lost or inaccessible"
Taran Singh, 3D Artist
The plate in question is the most damaged of the four and missing parts of the pattern were recreated by taking similar sections of the pattern and Gurmukhi letters from undamaged parts of the armour. The whole armour was created from scratch in 3D using low quality catalogue photos. The Gurmukhi was painstakingly hand painted digitally and each component of the gold koftgari pattern was created and then pieced together to make up the full pattern.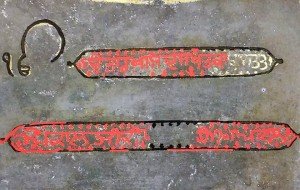 We believe given access to the actual artefacts, we could create more accurate and better quality digital representations that can be used to preserve and educate future generations. The second phase will involve completing the other 3 plates of armour and creating a touch screen based exhibit.
Further information can be found at www.sikhmuseum.org.uk/guru-gobind-singhs-armour/ and www.taran3d.com/3d-charaina-guru-gobind-singh
We will unveil more information on this project shortly contact us at info@sikhmuseum.org.uk