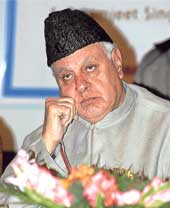 Srinagar, J&K: Alleging that the vested interests sabotaged earlier investigations, National Conference president Farooq Abdullah Sunday urged the Sikh Community to build pressure on New Delhi to re-investigate the Chattisinghpora massacre by a retired Supreme Court judge. "Chattisinghpora incident is still fresh in my mind. I still remember the day when I was having lunch with former US President Bill Clinton when this unfortunate incident took place," Farooq said at a function organised by Khalsa Democratic Front at SKICC on Sunday.
He said, "Clinton told me to have food, I denied. I told him that I can't eat as my heart was crying in pain over the killing of 35 innocent Sikhs."
Stating that Clinton has truly written in his book that had he not visited India Chattisinghpora massacre would not have taken place, the NC president said, "I have some reservations about Chattisinghpora incident and I will make these public through my book. The book will be released after my death so that nobody will question me".
He urged the Sikh community to build pressure on New Delhi for fresh probe into the Chattisinghpora massacre. "You have a very honest Prime Minister, who belongs to your community. Persuade him to appoint a retired judge of Supreme Court to re-investigating the case so that truth is revealed," he said.
Farooq said Justice Anand was carrying out the investigations into the incident but vested interests sabotaged the entire process. "I tried a lot to get the massacre investigated by a retired SC judge but couldn't as vested interests scuttled the move," he said.
He said it was unfortunate that five innocent persons were picked up in connection with the Chatisinghpora incident. "Thank God, they were proved innocent," he said.
Urging the Sikh community living in the State not to feel isolated, he said, "Sikhs have offered sacrifices right from 1947. I know what happened to Sikhs in 1984. It is my firm belief that if Punjab will face untoward situation, repercussions will be witnessed in Kashmir. The fate of Punjab and Kashmir is interlinked and I have maintained it on various occasions."
Farooq urged the Sikh community not to shy away from raising their issues. "You are part and parcel of Kashmir. You should select the people who could talk about the issues you are facing. During my tenure, I tried my best to give representation to the community in Service Selection Board, Public Service Commission and many other departments."
Earlier, acting chairman of Legislative Council Arvinder Singh termed Chattishingpora incident as a 'big wound' in the hearts of Sikhs.