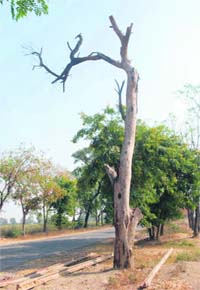 Muktsar/Bathinda, Punjab: Vanishing sheesham and kikar trees have become Punjab's bane. Farmers see it a curse by some unhappy god.The sheesham is utilised as firewood and for shade and shelter while the kikar is known for its high medicinal value and its wood is used in a big way for making paper. That the phenomenon has attained Kafkaesque proportions is obvious from the fact that in Bathinda district alone the number of sheesham trees has dwindled to 40,000 from 60,815 in 2001.
Statistics pertaining to the kikar are even more worrisome. In Bathinda district alone their numbers has come down to 30,000 from 82,183 in 2001. This means a whopping 63 per cent of trees have disappeared in just eight years.
Forest department officials say in Muktsar, the number of kikar trees has declined by more than 50 per cent in the past eight years. A district known for high incidence of cancer, locals say: " Drakht nu tan cancer ho gaya. (The trees have been struck by cancer)".
Probably they are right. Forget about the cure, nobody has an inkling about the reasons behind the dying trees. Stunned forest officials say "this is due to changing climatic conditions and altering soil conditions."
Ajmer Singh is a dejected man."More than 60 of my kikar trees are dead," he moans. Hundreds of other farmers like him cannot fathom what has struck the trees. Forest officials, pleading anonymity, say: "These trees are only good as firewood now, but villagers like Ajmer Singh can't even bring them down because no one tells them to do so."
The trees that die down are given to the Punjab Forest Corporation, which auctions them for whatever they are worth. "Preliminary examination suggests this a fungus may be eating into the trees, but we have are conducting further tests to confirm the suspicion. We are awaiting the test results," says Dr SP Anandh Kumar, Divisional Forest Officer (DFO), Bathinda.
Says a top forest official: "If the suspicion turns true, then it will be for the first time that the fungus would have chosen sheesham and kikar trees as its target."
Adds Dr SP Anandh Kumar: "The fast-growing sheesham has been the mainstay of the region's furniture industry. A full-grown sheesham tree with the right girth can fetch anything up to Rs 30,000." Scientists are working on various hypotheses. Among these are changing weather conditions, soil conditions or just a wrong site. In Punjab with canal irrigation, there has been an increase in the water-table level, increasing the moisture content in the soil. And the sheesham can only thrive in a sandy top soil," says KS Jatana, a retired DFO.
Another theory says that smog-hit Bathinda, known for its thermal plants producing a high quantity of flyash, is causing the death of its kikar and sheesham trees."Cloudy weather and a drop in temperature over the years may be one of the reasons," opines SP Gupta, a Bathinda-based botanist.