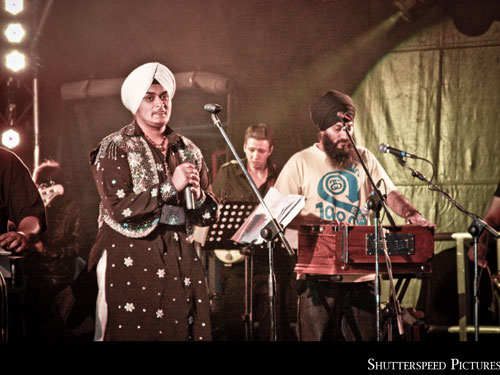 Londond, UK: Against the stunning backdrop of the Tower of London, 'Tigerstyle' took over 200 people who gathered on the historic grounds, on a musical Journey through history.   Launching this year's event series presented by the Anglo Sikh Heritage, 'Jewel in the crown' made a mark in history being the first Sikh event at the Tower of London with live music inspired by the life of Maharajah Duleep Singh.
The classically trained Scottish Sikh brothers performed songs fusing traditional daadi raag with rich eclectic instrumentation. Crowds watched intently under the lit London skyline, "this is the perfect setting! I've really enjoyed the music, the underlying message is captivating. I learned a lot about the story of Duleep Singh".  Harminder Talwar.
Tigerstyle said "The idea is to keep iconic Sikh figures alive through music, Maharani Jind, Ranjit Singh and their son Duleep, who spent his life living in England. Its valuable history that's shaped our connection to Britain"
Raj Academy opened the evening with an instrumental set, the academy are world renowned for their music promoting and preserve music from the Sikh courts.
Other events as part of the season  include, a gallery talk by internationally renowned artists 'The Singh Twins' and  storytelling for young people at the V&A museum and a unique lecture about Baba Deep Singh.
Each year the Anglo Sikh Heritage Trail aims to promote the rich history that connects the Sikhs and the British through events, research and education. 'Heritage shared' is an exciting programme of fifteen events taking place nationally during September and combines music,  theatre, visual art and illustrated talks, all profiling momentous chapters in Anglo Sikh history.
Harbinder Singh Director of ASHT says 'This unique series of events aims to inspire, inform and entertain'
TIGERSTYLE : Having shared stages with the likes of internationally renowned artists Franz Ferdinand, The Dub Pistols, Lily Allen, Talvin Singh, Nitin Sawhney, Panjabi MC and the BBC's Bobby Friction & Nihal, Tigerstyle have not only emerged as world class live performers, but have also proven to be ground-breaking producers with a plethora of official music productions for Franz Ferdinand, M.I.A., Raghav, Redman, Don Omar Gunjan, and Jay Sean, to name just a few.
Tigerstyle are one of the few British Asian acts to have ever recorded a live session for the legendary late Sir John Peel. They were given the opportunity to showcase material from their, then forthcoming album, Mystics, Martyrs & Maharajas supported by a full band at the first ever BBC Radio Electric Proms in September 2006, and were selected out of thousands of bands to perform on the first ever BBC Introducing Stage at the Glastonbury Festival in July 2007.
"We feel excited to have formed a relationship with ASHT as we have had a keen interest in Sikh history and culture throughout our upbringing and musical career. We are proud Scottish Sikhs and feel exhilarated to hear that Maharajah Duleep Singh and the Sikh army have so much history related to Scotland."