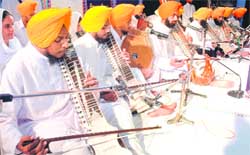 Patiala, Punjab: Speakers at the inaugural function of the Gurmat Sangeet competition, organised by Punjabi University's department of Gurmat Sangeet yesterday, disapproved of the practice of reciting Gurbani based on film music.
They felt it was against the spirit with which Sikh Gurus had composed and recited Gurbani and took the focus of the listener away from the quintessence of the divine word to popular film compositions.
In his presidential address, Vice-Chancellor Dr Jaspal Singh said the department had been actively parrying the onslaught of western music on Indian classical music through the recital of Sikh divine music.
Gurmat Sangeet, having been established as an exclusive discipline by the university, has encouraged the Sikhs around the world to make earnest efforts to persuade institutions of higher education to introduce this as a subject.
Dr Jaspal Singh added that music and Gurbani had an inseparable relationship and it was the best medium to internalise the divine word.
He urged the Sikh "kirtankaars" to make efforts to refine the taste than change it among listeners of Gurbani by reciting their compositions on prescribed ragas contained in Guru Granth Sahib.
SGPC president Avtar Singh guaranteed placement to all deserving students of Gurmat Sangeet receiving education from the university.
He also committed to allocate at least one day for recital of Gurbani kirtan at Golden Temple based on prescribed ragas accompanied by string instruments.
He also declared to start a special course to train Sikh "kirtankaars" at Damdama Sahib in reciting Gurbani in its true spirit.
He announced grants of Rs 5 lakh each to the department and Jathedar Gurcharan Singh Tohra Memorial Trust (JGSTMT), which had sponsored the competition.
Dr Gurnam Singh, dean, faculty of arts and culture, and chief organiser of the function, said the competition was a step to sustain, rejuvenate and promote the hoary tradition of reciting the Sikh divine music in its purest form.
He thanked the president of the JGSTMT for giving Rs 2 lakhs to organise the competition.