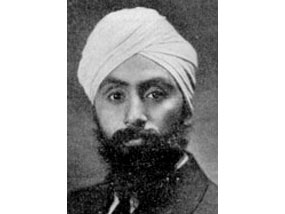 Surrey, Canada: A candle vigil was held in Surrey in memory of Sikh Bhai Bhag Singh, many have given him the title 'the first Indian martyr on Canadian soil".
In commemoration of the 95th anniversary of the death of Bhai Bhag Singh, hundreds gathered in his honour. The event was organised by the  Indo Canadian Workers' Association (ICWA) at Bear Creek Park at 13750-88 Avenue Surry
Bhai Bhag Singh headed the Khalsa Diwan Society, which is the oldest Sikh religious body in Canada. According to the ICWA, he and his comrade Bhai Badan Singh were shot by Bela Singh, an agent of the British government, on September 5, 1914. Both victims died.
The shootings came less than two months after a vessel with more than 350 Indian immigrants, the Komagata Maru, was turned away from Vancouver's harbour.
Bhai Bhag Singh campaigned to allow Indian immigrants to bring their families to Canada. Canadian laws at the time prohibited people from moving to this country if they didn't make a "continuous journey", which was impossible to do by sea from India given its distance from Canada.
He also advocated on behalf of 376 passengers on the Komagata Maru, which was forced out of Burrard Inlet on July 23, 1914. Only 24 passengers were allowed to stay in Canada; the ship returned to Calcutta, where some passengers were fired upon by British soldiers.
The ICWA stated that Bhai Bhag Singh also helped launch Swadesh Sewak, which was the first Punjabi newspaper published outside India. He urged former Sikh soldiers who fought for the British to burn their medals.
Another Sikh pioneer in B.C., Bhai Mewa Singh, was so enraged by the murder  of BhaiBhag Singh that he killed British immigration officer William Hopkinson. Bhai Mewa Singh was hanged in New Westminster in 1915, according to the ICWA.