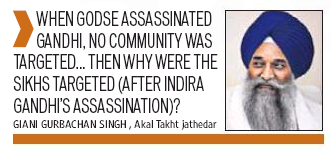 Amritsar, Punjab: Akal Takht Jathedar Giani Gurbachan Singh expressed concern over drug addiction among the Sikh youth and the use of unfair means during examinations in schools and colleges.
"Drugs, liquor and copying have become the main hurdles in the progress of the Sikh community. We have always been a community associated with hard work, progress and development, but unfortunately these evils have taken hold of our youth," the jathedar said in his customary Diwali day or Bandhi Chhor Divas message to the community from atop Darshani Deori.
He appealed to one and all, including parents, to take steps to check drug addiction and liquor intake among their children. On the use of unfair means in exams, the jathedar sought to remind members of the community that such methods would not take a youngster very far.
"It is unfortunate that Diwali has become associated with drinking (liquor) and gambling. We are forgetting that it is an important religious event for all," he added.
Giani Gurbachan Singh regretted that due to lack of proper guidance, particularly from parents and teachers, Sikh youngsters were not being taught their mother tongue (Punjabi). "The result is that children are not familiar with Sikh religion and history and are being drawn away from their culture and customs, he added.
"I appeal to all to make the use of Punjabi a habit at home. Nameplates at homes and work places should also be in the mother language. We must make it a habit to print marriage invitation cards in Punjabi," he added in his message.
He called for setting up more sporting facilities in Punjab so as to prevent the youth from being hooked to drugs and liquor. He also called for imparting quality education and taking stern steps to check the use of unfair means in exams.
Prayers in memory of 1984 Genocide victims
Prayers were offered at the Akal Takht on Diwali day in memory of those who were killed in the Genocide on November 1-3, 1984.
After the ardas, Akal Takht jathedar Giani Gurbachan Singh, in his address, regretted that even after 29 years of the massacre, justice had not been done. The wounds inflicted on the Sikh community have not yet healed, he told the gathering at the Akal Takht.
"It was a planned and organised attack on the community. Entire families were wiped out and those who had organised these attacks were later rewarded with ministries and became MPs," the jathedar added without naming anyone.
He recalled the manner in which rioters went from one Sikh home to another, butchering men, women and children. Tyres were put around the necks of some of the victims and they were set afire, he added.
"When Nathuram Godse assassinated Mahatma Gandhi, no community was targeted and so was the case when Rajiv Gandhi was killed. Then why was the Sikh community targeted?" he asked.
The jathedar regretted that despite numerous inquiries and commissions, justice had not been done. On the contrary, threats are being issued to witnesses, he alleged.
On the occasion, the jathedar honoured Paramjit Kaur, who had lost 24 members of her family in the Genocide.