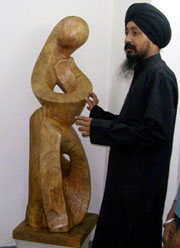 Amritsar, Punjab: A painter-turned-sculptor has a story to tell. Narinder Singh, an eminent artiste, had the urge to do something different and a challenge thrown by a woman made him manifest his inner dream and created a life out a wooden piece. Since then he has not looked back and dedicated his whole life to this form of art. However, for him this art has different perception. "It's not me who works on wood to express my thoughts, in fact it is the wood itself which uses me to communicate its silent feelings," says Narinder, who has put up an exhibition of his works at local
Art Gallery.
Narrating his story about metamorphosis, Narinder is basically an art teacher in a government school and starts making sculpture just because of the challenge given by a girl. A girl in 2001 gave him challenge to make sculpture and he accepted the challenge but now he is fond of creating life out of wood.
Talking about his exhibitions presently in the S.G. Thakur Singh Art Gallery, he had organised and participated in many exhibitions in which three were solo and six were group shows. While he also joined in national, regional and state-level exhibition held at several places in the country.
Narinder Singh has won many awards for his creations including 74th All India Exhibition of Arts IAFA, 2008, Silver Plaque "S.Dharam Singh Engineer" memorial Award in 74th All-India Exhibition of Arts IAFA, 2008, Highly Commended in 71st All India exhibition of Arts IAFA, 2005, Highly Commended in 70th All India exhibition of Arts IAFA, 2004. However, his deep desire is to receive an award from President of India, he added.
Narinder says making sculpture is his passion now and he has dedicated his whole works to his friends and his relatives to whom he could not meet for years.
He exhibits 20 sculptures where he shows each and every creator is an open personality.
Among his creations is "Shelter by Nature". Here the two big pieces of mashroom giving shelter to smaller one, the God is the biggest creator, he said while explaining. The owl depicts the simplicity in his creations while The Balance and In Search of Nest represent his thoughts.
Source: TNS