Washington DC, USA: Guru Nanak Dev Ji's Birthday was celebrated at the White House under the Obama administration today.  Around 150 Sikhs attended the celebration with senior officials of the white house at the the Eisenhower Executive Office Building in the South Court Auditorium. The program started at 9:30AM and concluded around 12:00PM.
The program started with welcome remarks from D. Paul Monteiro, Office of Public Engagement, followed by Ardas and Shabad Keertan by Bhai Niranjan Singh and Bhai Sucha Singh.The congregation was then addressed by Commissioner Amardeep Singh on the initiatives by White House on Asian  Americans and Pacific Islanders. Director Grande Lum, U.S. Department of Justice Community Relations service then shared his remarks with the Sikh community.
The UNITED SIKHS had 22 representatives in attendance, including the director Hardayal Singh, Dr Seema Kaur (Regional Director), Harpreet Singh,(Regional Director on Policy and Advocacy), Sarmail Singh(Regional Coordinator, Washington DC) and Satnam Singh (Regional Coordinator Central Valley, California).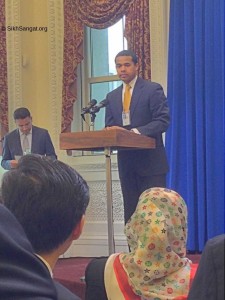 After recitation of another Shabad, Congressman Jerry McNerny from Stockton, California, who received huge support from the sikh community in the recent elections, gave his brief remarks. Other speakers at the function included Mazen Basrawi, Eric Treene (Special Counsel for Religious Discrimination) and Assistant Attorney General for Civil Rights Tom Prez. The program concluded with closing remarks by Dr. Rajwant Singh of the Sikh Council on Religion and Education.
This is a great step taken by the Obama Administration to celebrate the birth anniversary of the founder of the Sikh religion, and is appreciated by the Sikh community world wide.
Event had few Sikh Organization's representatives, including Sikh American Legal Defence and Education Fund, Sikh Coalition and AGPC.
Source: Vicky Singh, SikhSangat Network
Gallery