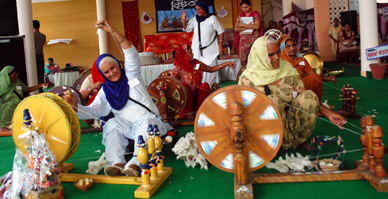 Amritsar, Punjab: The good old 'Trinjhan', where women of all age groups used to sit together to perform multiple works and exchanged ideas, was revived at the premises of All India Pingalwara Charitable Society (AIPCS).
On the death anniversary of its founder Bhagat Puran Singh, the management attempted to revive old Punjabi culture Trinjhan. It was the place where old, young and middle aged used to come together to perform works like weaving, sewing and perform other household works. During the course of their stay, the aged women used to share their experiences with the younger ones and in this way correct and guide them.
The advent of entertainment means like television, satellite channels, radio and others busted this mingling and sharing of experience. It encouraged individualism while making distancing among people and families. Depiction of women using charkha, weaving pieces of clothes and shawls was eye-catching.
Apart from this, countless stalls of organically produced farm commodities like rice, cereals, squashes were set up for public.
No longer consumed traditional Punjabi hygienic foods like Mothan Di Khichdi, Kikkar De Tughle (known as Tukke in Malwa), which is made from seeds of Kikkar tree, Suanjane Da Achar, flours of Kangni, maize, bajra and swank were on display.
Source: TNS