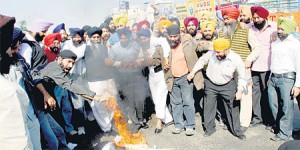 Ludhiana, Punjab: Sikh students federation burned effigies of former Akal Takhat Jathedar Prof Darshan Singh today throughout Punjab. They did that to express protest over Darshan Singh's derogatory comments about tenth Sikh master Guru Gobind singh while speaking at a Gurudwara in USA.
Main spokesman of federation Bhai Major Singh told that they had held protests and burned Darshan Singh's effigies at Amritsar, Gurdaspur, Ferozepur, Pathankot, Hoshiarpur, Bhatinda, Nawan Shahar, Moga, Mansa, Batala, Bagha Purana, Beas, Rayya, Ajnala and Zeera.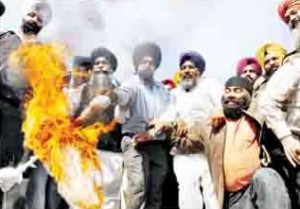 At Ludhiana Federation under leadership of its President Paramjit Singh Khalsa burned effigy of Darshan Singh at Jagraon Bridge, Ludhiana. Bhai Khalsa said that because of grace of Guru Maharaj, Darshan Singh became jathedar of Akal Takhat. He is using same tongue to do slander of Guru Gobind Singh Ji and his Bani with which he was singing this Bani. He asked Punjab Govt to book Darshan singh under criminal code 295 A as he has ouraged and caused immense damage to sentiments of Sikhs world over.
During this demonstration Gurdip Singh Gosha District president of federation, Jaspal singh Islamganj, Baljit singh Beeta, Bhalinder pal Singh Sudhar, Khushjit Singh, Balwinder singh Bhullar, Parminder Singh bagga, Kamaljit singh, Pavitra Singh Happy, Dilbagh Singh Bagga, Charanpreet Singh Micky, Avtar Singh lovely, Maninder Singh Ahuja, Sukhdev Singh Malwa, Paramjit Singh Sant, Tejinder Pal Singh, Bharpur Singh, Gagandeep Singh Hansra, Gurdeep singh Jamalpur, Devinder Singh Pardhan, Jagjit singh happy, Maninder Singh Mintoo, Shingara Singh, Inderpal Singh kala, Amarjit Singh happy, Gagandeep Singh Sethi, Simarjit Singh Kohli, Paramjit singh Hansra, Ravinder Singh Kalra, Jagjit Singh Neeta, Kamaldeep Singh Ghoora, Amrik singh and Narjit Singh participated.