Chandigarh, Punjab: Despite having failed to achieve the targets of its ambitious Rs 11,520- crore annual plan for 2011- 12, the Parkash Singh Badal government has, in principle, decided to lift its 2012- 13 annual plan to Rs 12,800 crore. The plan focuses on spending money on development and creating infrastructure.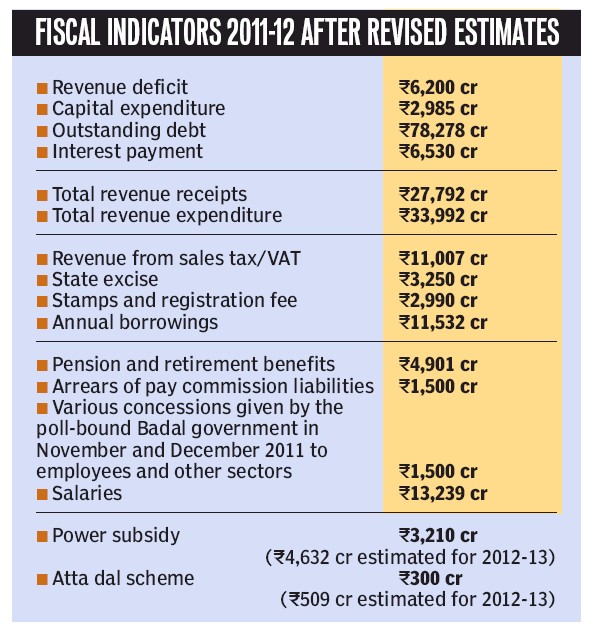 A battery of officers from the finance and planning departments led by chief secretary Rakesh Singh and principal secretary (finance) Satish Chandra would hold a meeting with the Planning Commission authorities in Delhi on Tuesday next week to set the ball rolling for finalising the 2012-13 plan. Then, chief minister Badal would meet the commission authorities, following which the annual plan would be approved.
The ambitious decision of having this fiscal year's annual plan of Rs 12,800 crore is apparently an exercise to create a positive perception about the financial health of the state. The 201112 annual plan of a cash strapped Punjab government remained big only on paper, as the government barely achieved 60% of the target, sources said.
The spinmasters of the finance department have been blaming "severe fiscal stress" and the election code of conduct due to the Shiromani Gurdwara Parbandhak Committee (SGPC) elections in August – September 2011 followed by the assembly polls in the last quarter of 2011-12 for the major shortfall in achieving the targets.
According to official figures, servicing of the huge debt is one of the main causes for the state's precarious fiscal health.
After the revised estimates, the outstanding debt of the government in 2011-12 was R78,278 crore, which is likely to cross R90,268 crore by March 2013.
The annual interest liability on this outstanding debt was R6,530 crore in 2011-12. This has been pegged at R7,118 crore for 2012-13. "As a result of this, the state's borrowings continue to multiply in a bid to control the galloping revenue deficit and to arrange funds for planned expenditure," said an official.
Not for the first time the Badal government was found short of targets of the annual plan. Whether it was the Rs 8,625- crore plan for 2009-10, or the R9,050- crore plan for 2011, the government has in fact failed to achieve targets of its last three annual plans, barely achieving 60% success.
Source: HT