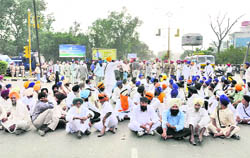 Ferozepur, Punjab: Supporters of the president of the SAD (Panch Pradhani), Daljit Singh Bittu, and several panthic organisations today blocked traffic and staged a dharna on the Ferozepur road outside the mini secretariat against the extension of police remand to Bittu.
The agitators sat on the road and started reciting religious hymns for the fast release of Bittu, who, they said, was being targeted by political outfits.
Traffic was hit, leading to serpentine queues of vehicles waiting to pass through the area. The police remained on its toes to control any untoward incident arising out of the situation. Water cannons were called in but were not used as the protesters did not disturb peace.
The SDM-West, Prem Chand, reached the spot and pacified the agitators. They submitted a memorandum to him, asking for the immediate release of Bittu.
Harpal Singh, a leader, alleged that the publications that were not in line with the SAD ideology were being targeted.
He also said political vendetta should not be allowed to go to such lengths.
Other members of the SAD-Panch Pradhani were also being implicated in various cases across the state. "We would not allow this to happen," he said, adding that they would intensify their protest.
"We want to tell the world that we are peace loving organisations. We are being connected with violent incidents to create a public opinion against us. The Akalis are using the police and the administration to settle scores with us," the protesters alleged.