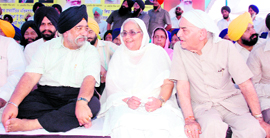 Chandigarh, Punjab: The Shiromani Akali Dal (Longowal) was revived today at a function held by the family of Tamil Nadu Governor Surjit Singh Barnala and its supporters to mark the 24th death anniversary of Sant Harchand Singh Longowal here.
Bibi Surjit Kaur Barnala, wife of the Governor , was made president of the new SAD (L ) while supporter of the Barnala family, Baldev Singh Mann, was made secretary-general.
Former MLA Gaganjit Singh Barnala, son of the Governor, former minister Baldev Singh Mann, president, Delhi Sikh Gurdwara Management Committee (DSGMC), Paramjit Singh Sarna, former Delhi Chief Minister Madan Lal Khurana and president, Haryana Akali Dal, Kartar Singh Thakkar were present on the occasion.
Sarna urged Surjit Singh Barnala to come to Punjab and assume control of the SAD (L). He claimed only Barnala could remove the SAD (Badal) from political scene of the state. He said the DSGMC would contest SGPC elections in Punjab in alliance with the SAD (L) and others. Baldev Singh Mann said the party's main aim was to get the Rajiv-Longowal Accord implemented.
The speakers held the SAD leadership responsible for the downfall of the SAD as there was no respect for workers in the SAD.
Source: TNS