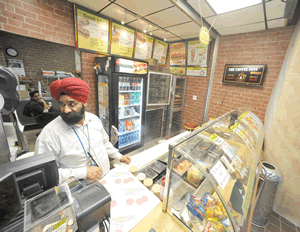 Lehigh Valley: The Sikh owners of two Subway restaurants at Lehigh Valley International Airport who claimed they were being evicted because worried passengers confused them with Muslims have settled their federal lawsuit against the airport authority. Suhirdbir Bhasin, Raminder Bhasin and Ishmeet Bhasin will keep the lease on one restaurant and receive "generous financial incentives" to give up the lease on the other restaurant, said their attorney, George Kanupis of Bethlehem.
The lease for the restaurant they'll keep will be extended to 2013, Kanupis said.
"I was pleased at the spirit of cooperation by the airport authority," Kanupis said.
The Bhasins — two brothers and a son — filed the lawsuit in August. They claimed that since taking over the restaurants in 2007, they had been subjected to "racial, ethnic and religious discrimination" from LVIA management.
They have long beards and wear turbans, which they claimed made "passengers and visitors 'nervous' or 'concerned."'
The suit, filed in U.S. District Court in Philadelphia, alleged civil rights violations and breach of contract.
George F. Doughty, executive director of the Lehigh-Northampton Airport Authority, which runs LVIA, denied the allegations and said renovations at the airport forced the closing of one restaurant and an expiring lease led to the decision to close the other restaurant.
Doughty said Thursday the authority board will vote on the settlement on Tuesday.
"We still have a Subway, which is what we wanted, and it's a deal they can live with and works for us and we're very happy and pleased with the outcome," Doughty said.
According to the suit, the Bhasins paid $250,000 for the franchises in 2007 and financed the purchase in part with a $127,000 loan from the Pennsylvania Minority Business Development Authority. After they began operating the two restaurants and made their initial appearances, according to the suit, the problems began.
The defendants showed "surprise, discomfort and displeasure" at their turbans, the suit says, and "implemented and formalized" a plan to "harass and oust the plaintiffs and destroy their business."
Source: Matt Birkbeck, Mcall.com