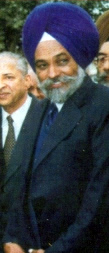 Patiala, Punjab: Rulda Singh, head of Rashtriya Sikh Sangat, an affiliate of Rashtriya Swayamsevak Sangh (RSS) has succumbed to his injuries in PGI Chandigarh in the wee hours of Saturday. Punjab Chief Minister Parkash Singh Badal and Dy CM Sukhir Singh Badal have mourned the death of Rulda Singh.
He was shot at and seriously injured his shop cum flat t Grain Market in Patiala in Punjab by three unidentified assailants on July 28.
Rulda Singh, was a Sikh face of Hindu terrorist organisation RSS. Lately, he had been issuing statements and organizing hindu based Sikh programs in India. His sole mission was to assimilate Sikhs into hinduism similar to what Arya Samaj tried to do in the early 1900's.
The Babbar Khalsa Internationl (BKI) had claimed responsibility for the attack on him.
Punjab Local bodies & Industries Minister Manoranjan Kalia has expressed deep grief on the sad demise of Rulda Singh. He said that BJP and as well as RSS has lost its precious diamond.
Kalia spoken to PGI director Dr. KK Talwar over phone for speedy discharge of dead body from PGI as no doctors were available for post mortem due to Independence Day holiday.