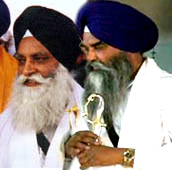 Punjab: The Shiromani Gurdwara Prabandhak Committee (SGPC) here today honoured the sacked additional head granthi of the Golden Temple at Akal Takht on his retirement.
Acting head granthi Giani Jaswinder Singh and SGPC president Avtar Singh Makkar honoured Giani Mohan Singh, one of the oldest employees of the SGPC, by presenting him a siropa, shawl, plaque and Rs 11,000 in cash. Giani Mohan Singh offered the reward money to the SGPC for organising langar.
Earlier, Giani Mohan Singh, who had also served as Jathedar of Akal Takht for a brief period, was sacked from the post of additional head granthi of Harmandar Sahib for celebrating the golden jubilee of his wedding in violation of the Sikh code on June 25. He was asked not to perform 'rehras' (daily evening prayer) by acting head granthi Giani Jaswinder Singh.
Earlier too he was removed as head granthi when he refused to accept the post of Jathedar of Akal Takht on December 9, 2000, after the removal of Bhai Ranjit Singh as Jathedar.
Praising services of Giani Mohan Singh, Giani Jaswinder Singh prayed for his good health.
Giani Mohan Singh had joined as granthi at Sri Keshgarh Sahib in September 1964 and also served at Fatehgarh Sahib and Dukhniwaran Sahib gurdwaras in Patiala and was promoted head granthi in Patiala in 1973. Later, he was transferred to Amritsar as granthi in August 1978 and promoted head granthi of Harmandar Sahib in 1988. He was given extension in service after retirement.