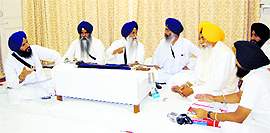 Amritsar, Punjab: Sikh preacher Sarbjit Singh Dhundha who remained in severe controversies in past due to his controversial remarks during preaching, atlast appeared before the Panj Takht Jathedars on Saturday.
After appearing at Akal Takht, Dhunda tendered apology before the five Jathedars who accepting his apology suggested him to listen Sikh religious hymns for the next few weeks in the Harmandir Sahib besides recitation of Sikh religious scriptures and then again appear at Akal Takht to perform Ardas (prayer) as per Sikh rituals. Akal Takht Jatehdar Singh Sahib Gurbachan Singh said that Dhundha appeared at Akal Takht being a humble Sikh and Panj jathedars have given him a chance to make clear his conscious while listening religious hymns so that such mistakes couldn't be repeated in future.
Dhunda appeared at Akal Takht along with his eight supporters amidst the tight security cover given by the Task Force of SGPC. Jathedar said that earlier Dhundha had uttered some objectionable remarks about the Golden Temple Amritsar, during his appearance while tendering apology said that his words were twisted and distorted but he was always ready to aplologise if sentiments of anybody were hurt due to him.
Dhundha told Akal Takht that for him Akal Takht was supreme and would always obey all the directions issued from here. Akal Takht recently issued directions to Sikh community to all over the world to avoid Dhundha for allegedly uttering objectionable words against the Harmandir Sahib unless he appeared at Akal Takht to submit his clarification along with apology.
Dhunda put a full stop at all the controversies by appearing at the secretariat of Akal Takht to tender apology for hurting the sentiments of Sikh community whereupon he  clarified that he never intended any such thing since he kept high respect for Harmandir Sahib as well as Akal Takht.