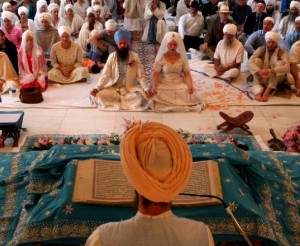 Delhi, India: Sikhs are likely to have a separate marriage law soon with the Ministry of Home Affairs planning to move the Union Cabinet in this regard.
Ahead of the Punjab Assembly polls, the Centre has decided to accede to the long-standing demand of the Sikh community for enacting a separate Anand Marriage Act, giving legal sanctity to the marriages under Sikh religion, official sources said.
So far, Sikh marriages are solemnised under Hindu Marriage Act after the annulment of the Sikh Marriage Act in 1955.
Prior to Independence, marriages among Sikhs were held under the Anand Marriage Act in the presence of Guru Granth Sahib and the practice continued till 1955 when the Sikh Marriage Act was replaced and included in the Hindu Marriage Act, clubbing four communities together– Hindu, Sikh, Buddhist and Jain.
the sources said after the Cabinet clears the proposal, a bill in this effect will be tabled in Parliament and once it gets approval, Sikhs can marry under the new law.
However, it is not clear whether the bill would be tabled in the current session of Parliament, they said.
Several political, religious groups and individuals, including former Punjab Chief Minister Amarinder Singh and Congress leader R S Jaura, have appealed to Prime Minister Manmohan Singh and Home Minister P Chidambaram for enactment of a separate law for solemnising Sikh marriages.
Earlier, a Parliamentary Standing Committee had unanimously approved the creation of the marriage law for Sikhs. However, the Centre has been refraining from acting on it apparently apprehending that it could lead to similar demands from other communities covered under the Hindu Marriage Act.