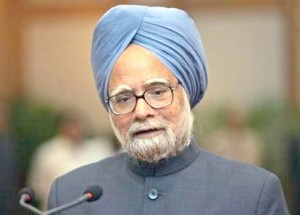 Washington DC, USA: Human Rights Groups in the United States expressed their concerns to President Barak Obama on the freedom of religion or belief in the upcoming meeting with Prime Minister Manmohan Singh of India. The Indian government has failed to bring the perpetrators and instigators of sectarian violence to justice.  For the same reason the United States Commission on International Religious Freedom (USCIRF) named India to its Watch List in August, 2009.
Voices For Freedom (VFF) a leading Human Rights Groups, Executive Director, Sudip Minhas, said, "Its most evident in the Indian government's inadequate responses to sectarian violence, and this discrepancy has produced a culture of impunity, where those who commit crimes against religious minority groups do not expect punishment by law. "
In a letter to President Obama, Leonardo Leo, chair of US Commission on International Religious Freedom, said, "India's failure to provide justice to religious minorities targeted in violent riots is not a new development.  In February 2002, Hindu mobs – angered by a train fire that resulted in the death of 58 Hindus returning from Ayodhya – killed 2,000 Muslims in the Gujarat province and displaced over 100,000 people.  Evidence of state government and police complicity in the attacks emerged in 2007.  Court convictions, however, remain minimal, and Muslims living in the Gujarat province remain in a state of fear and insecurity. Similarly, the architects and perpetrators of massive, country-wide attacks on Sikhs in 1984 that resulted in the deaths of over 4,000 Sikhs remain largely unprosecuted."
Larry Cox, Amnesty International, Executive Director,  said in a letter to the President, "Over three thousand Sikhs were massacred when the governing Congress Party incited mob violence targeting Sikh civilians in reaction to the 1984 assassination of Prime Minister Indira Gandhi by her Sikh bodyguards. Scores of women were gang raped and some were burnt alive. After two decades, a judicial commission concluded that members of the governing Congress Party were involved. Twenty five years have passed since the massacre, but only a few have been brought to justice for this mass killing."
Sikh For Justice (SFJ), another leading organization, in the East coast,
said,  "the aftermath was worse than the riots themselves as successive Indian governments not only failed to prosecute the guilty, but continued to shield those leaders indicted by inquiry commissions. Most of them were given seats in parliament and positions in the Union Cabinet."
In an exclusive interview with Voices For Freedom, highlighting their programs which includes candle-light vigils in major countries of the world, made an appeal to all  human rights groups and organizations for  participation in the days of 27th, 28th and 29th of November and the 12th of December.  In the USA, the vigils are being planned in Washington DC, Freemont, Atlanta, New York, New Jersey and Texas in partnership with local human rights groups and Sikh institutions, where victims will give their testimonies.
Attached below is  a copy of the memorandum submitted by Voices For Freedom to President Barack Obama on the visit of the Indian Prime Minister Dr. Manmohan Singh.
Sukhvir Singh Khalsa
Sikh Sangat News Reporter-North America Region
—————
(Copy of the Memorandum by Voices For Freedom)
Memorandum As Indian Prime Minister Dr. Manmohan Singh Prepares to meet US President Barack Obama
Washington DC, 23th Nov 2009: As the United States of America proceeds to accord a red-carpet welcome to the White House to the Indian Prime Minister, in Delhi, the Manmohan Singh government has been forced to table in Parliament the report of the Liberhan Committee into the causes of the bringing down of the historic Babri Masjid in Ayodhaya, Uttar Pradesh on 6 December 1992.  The report, which took 17 years of preparation indicts the one time Prime Minister Atal Bihari Vajpayee, the then home minister of India, Shri Narsimha Rao, the then Chief minister of Uttar Pradesh, Shri Kalyan Singh and the present leader of the opposition and Senior leader of the right-wing Bharatiya Janta Party, Shri Lal Krishna Advani.
This report has been tabled in parliament for the Congress party generally believed and so do most people, that it was the Bharatiya Janta Party which was responsible and also because the report was sensationally leaked in the last two days.
On the other hand reports of 15 commissions and committees(1), enquiring into the anti-Sikh carnage of 1-2 November 1984, resulting in the death of 2, 733 Sikhs (official) has not seen any report being tabled in Parliament, and in most of these cases, none of the leaders and bureaucrats in the higher echelons of power, including the then Home Minister, who was none other than late Shri Narsimha Rao, have either been indicted or held accountable for their acts of omission and commission. Like Shri Atal Bihari Vajpayee, the then Prime Minister Shri Rajiv Gandhi can too be held accountable for his words and inaction. He too, along with his entire administration is culpable for murder, and manslaughter on a massive scale.  Sikhs around the world are demonstrating this with candle-light vigils all across the world(2).
25 years too late. Still, with India opening up to the US, and with the US rightly persuading India to respect all international norms –from climate change, to nuclear non-proliferation to religious freedoms in the country, it is opportune time for the United States to raise issues of concern for human rights violations in India –violations against Sikhs, Muslims, Christians, Dalits, people in the north east and the generally poor people who are not enriching through agreements and treaties, but whose lands are being occupied and whose number increases by the year, with India having more than 30 percent of the people living below the poverty line.
As the US and India prepare to have an agreement about terror control and anti-terror tactics, it is necessary to recognize poverty, continuing injustice, disregard for any community's religious rights as the causes of discord.
The United States Commission on International Religious Freedom (USCIRF) has also named India to its Watch List in August 2009 for failing to bring perpetrators and instigators of violations on religious belief and freedom to justice(3).
Voices for Freedom believes that the visit of the India Prime Minister should become an occasion for the American government to raise international concern for the following:
1) Irom Chanu Sharmila(4), who is on a fast unto death and is being force-fed for the last nine years in Manipur as she and the people of Manipur desire a withdrawal of the Armed Forces Special Powers Act, which gives sweeping powers to harass, arrest, maim and kill. Just as President Barack Obama has asked the tyrannical Burmese government to release Aung Sang Suu Kyi, so should President Obama ask the non-functioning Indian democracy to release Irom Chanu Sharmila.
2) Injustice against Sikh widows who are waiting for justice since the last 25 years. Are the Sikhs living in a civilized society where the murder of 4000 Sikhs goes unchecked? Drawing parallels in cases of terrorism is unfair, uncivil and dangerous. However, Voices for Freedom wishes to know that within less than a year, the government of India "knows the full ramifications of the 26/11 attacks in Mumbai." We urge the United States to assist India in uncovering (if it still does not know) the truth of the November 1984 genocide of the Sikhs in Delhi and 80 other towns of India.
3) Approximately 40,000 Christians languish in camps in Orissa and who still haven't received justice, despite accusations against alleged perpetrators of the violence, targeted against the Christian community.  This destructive campaign also led to at least 40 deaths. There were also accounts of forced re-conversions to Hinduism of Christians returning to their villages following the violence(5)  . This is just another example of India's failure to provide justice to religious minorities.
4) A large number of political prisoners are in prison in Panjab(6) and Kashmir and are being imprisoned for their religious and political views(7)   .
5) Hundreds of political activists are being imprisoned for waging a struggle against the Indian government's intention of waging a war against the indigenous peoples of the Indian sub-continent who do not want their home and hearth to be snatched and grabbed by multi-national companies of Indian or any international origin in Orissa, Madhya Pradesh and Chattisgarh(8).
6) India's claim for a permanent seat in the United Nations Security Council is untenable till it becomes a functioning democracy and the concerns of minorities are addressed to their fullest satisfaction in consonance with the UN Charter and the UN Declaration for Human Rights.
We urge you, just as the many human rights groups and organizations demonstrating today(9)  , in Lafayette Park (outside the white house), to raise these serious issues, during your meetings with Dr Manmohan Singh addressing the culture of impunity for perpetrators of violence against religious groups in India. These, if not addressed, will result in incidents of sectarian violence against religious minorities and continual failure of the Indian system.
Ranjit Singh
Director, Voices For Freedom
http://voicesforfreedom.org
P: 646-219-2863
Email: info@voicesforfreedom.org
(1): Commission and Committees: Carnage 84: Massacre of 4000 and more Sikhs in Delhi
http://carnage84.com/homepage/commissions_and_committees.htm
(2): Candle light vigil across the major countries of the world: See under Events: Voices For Freedom: http://voicesforfreedom.org
(3): 2009 Annual Report on Countries of Particular Concern and placed India on the Watch List. The report is available at: http://www.uscirf.gov/images/india%20chapter%20w%20gaer%20footnote.pdf
(4):India's Wretched State of Manipur:Not free to Starve: Source The Economist: http://www.economist.com/world/asia/displaystory.cfm?story_id=14816712
(5): USCIRF Sends Letter to President Obama Regarding Meeting with Indian Prime Minister : See: http://www.uscirf.gov/index.php?option=com_content&task=view&id=2837&Itemid=1
(6): Voices For Freedom expresses concern as spate of arrests continue in Panjab: http://voicesforfreedom.org/Voices%20For%20Freedom%20expresses%20concern%20as%20spate%20of%20arrests.htm
(7): Voices For Freedom News Desk: Kashmir is a humungous human tragedy: http://voicesforfreedom.org/Kashmir%20is%20a%20humungous%20human%20tragedy%20says%20Harinder%20Baweja.htm
(8): Arundhati Roy: Corporate Land Grab Needs Enemy–the Maoists:
http://southasiarev.wordpress.com/2009/11/02/arundhati-roy-corporate-land-grab-needs-enemy-the-maoists/
(9): The Washington Times: Appeal to U.S. President Barack Obama: See: http://advstage.washingtontimes.com/pages/khalistanaffairs.html