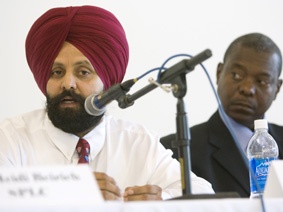 Arizona, USA: A panel of experts on hate crimes said they remain optimistic about the direction the country is heading, but cautioned that the number of hate groups will continue to multiply.
During a public forum in downtown Phoenix on Wednesday, Heidi Beirich of the Southern Poverty Law Center said about 600 hate groups existed in the country in 2000. The Alabama-based civil-rights group tracked 926 last year, 19 of them in Arizona.
The economic recession, rising number of Latino immigrants coming to the U.S. and election of the first Black president has fueled the popularity of White supremacist, Nativist and other hate groups, she said.
"This is just set to rise," said Beirich, who made the trip at the invitation of Mayor Phil Gordon. "It's really, really important to be extremely confrontational on these issues. We have to wrestle with them. We have to acknowledge they exist. We have to take them on."
Others who participated in the "Elements of Hate" forum included Bill Straus, who heads the Anti-Defamation League Arizona, Barbara McCullough-Jones, executive director of gay-rights group Equality Arizona, members of the FBI and Phoenix Police, and Rana Sodhi, a Sikh immigrant whose brother, Balbir, was fatally shot at his Mesa gas station four days after the 9/11 terrorist attacks because he had a beard and was wearing a turban.
Ten months later, a second brother was shot and killed while driving his cab in San Francisco. No one has been charged in the murder.
Despite his personal losses, Rana Sodhi said he was amazed by the outpouring of support from neighbors and civic leaders, including then-Attorney General Janet Napolitano and Gordon.
"This community and community leadership has made me strong," Rana Sodhi said. "Even though I lost two brothers, I am very proud to be part of this country, part of this community."
Source: Scott Wong, The Arizona Republic