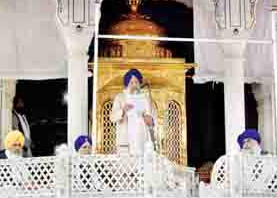 Amritsar, Punjab: Highest spiritual and temporal seat of the Sikhs, Sri Akal Takht Sahib, today declared its former Jathedar Professor Darshan Singh as 'Tankhaiya' (guilty of religious misconduct). The Sikh clergy, after a marathon meeting, issued an edict awarding the religious punishment to Darshan Singh who previously had been warned several times by Sri Akal Takht Sahib.
During meeting of Sikh Clergy, Jathedar Akal Takht Gyani Gurbachan Singh, Jathedar  Takht Damdama Sahib Gyani Balwant Singh Nandgarh, Jathedar Takht Kesgarh Sahib Gyani Tarlochan Singh, Jathedar  Takht Patna Sahib Gyani Iqbal Singh and Head Priest Sachkhand Takht Hazoor Singh Sahib Gyani Partap Singh were present at Akal Takht.
On November 17, Akal Takht had asked Darshan Singh to appear before Singh Sahibans for clarifications pertaining to his blasphemous remarks against Dasam Patshah Guru Gobind Singh in the United States.
Earlier in the morning Darshan Singh had come before Akal Takht but did not go inside to meet  Sikh clergy.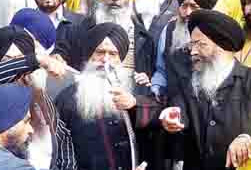 When Darshan Singh was sitting outside the Akal Takht, secretary SGPC told him to go inside before the Sikh clergy but Darshan Singh vehemently denied to go inside. First he gave the reason that he cannot walk but then he changed his statement and demanded that Sikh clergy should come out to listen to him. He was violating Sikh traditions and making his own traditions putting his ego on top. Dalmegh singh, Secretary SGPC, tried to perusade Ragi to go inside as a humble sikh. It had no effect.
Darshan Singh came along with DGMC president Sarna, Tarsem Singh missionary and 25 supporters. Four Hundred Nihangs especially  from Gurdaspur and Amritsar and equal number of SGPC Task Force were present outside of Akal Takht Sahib during the whole episode. Darshan Singh, being guilty was afraid to go inside in front of Jathedars and face the consequences. He sat in front of Akal Takht Sahib for nearly two hours and then fled the venue by not appearing in front of Jathedars.
Whereas, Sikh clergy in an edict said that Darshan Singh had arrived at Akal Takht carrying ego in his head, since he had violated all the norms of Sikh religion during his appearance at sacred Akal Takht.
In an edict Sikh clergy described Darshan Singh as so called professor who did not bother about the respect of highest Sikh temporal seat Akal Takht, so that is why he was declared tankhaiya.
Edict further stated that Darshan Singh is given time to appear in person before the Akal Takht before January 7.
Edict also asked the Sikh community not to sponsor, fund or support Ragi Darshan. Akal Takht also directed ragi not to give any discourse nor use any panthic stage until he appears before Akal Takht Sahib within allotted time. Ragi has been given final warning and asked to appear before Jan. 7,2010, and if he fails, severe action will be taken against him.
Hukamnama