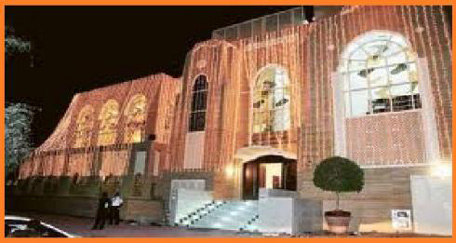 Jebel Ali: The United Arab Emirates has inaugurated the country's first official Sikh gurudwara.
Guru Nanak Darbar opened on Friday in Jebel Ali around 35 km from Dubai, ending years of demand from the Sikh community for a dedicated place of worship.
The gurudwara is believed to be the first of its kind in the entire region.
Narinder Singh resident of Dubai and member of SikhinDubai.com who conducts kirtan (devotional songs) believe, "It's a historical step and a boast for the Sikh community living in the UAE".
His Highness Sheikh Mohammad bin Rashid Al Maktoum, Vice President and Prime Minister of the UAE and Ruler of Dubai gave his consent for the gurudwara. He also gave away free land for the gurudwara.
The gurudwara is spread over an area of 25,000 square feet near the Jebel Ali Hospital.
It has a dedicated floor for community feasts (langar) and a huge hall for devotional songs (kirtan). Arrangements can be made for community feasts for about 5,000 people at a time.
After a long-standing demand, the Sikh community believes it was an example of the strength of the community and their role in UAE society.
Media professional Abhimanyu Vir Pratap says, "It's good for the community specially people residing this part of the town. We don't have to go as far as Bur Dubai. On holidays the entire community can gather together and exchange our views, philosophies and carry out our charity work."
The Sikh community in Dubai till now offered prayers in a gurudwara in the temple complex in Bur Dubai.
Shweta Jain Chavan who visited the Bur Dubai complex says, "This will help our community immensely, the old complex was not spacious enough to hold large gatherings. This also goes on to show Dubai's tolerance towards other religion."
The main prayer hall of the new gurudwara has a 7.2 metre high ceiling and 18-metre diameter dome roof. The function hall can accommodate up to 900 people. There is parking space in the basement too.
There are an estimated 50,000 Sikhs in the UAE, hailing from India and Pakistan
Dubai Marina resident Giftie Sahany says, "This has proved once again that Dubai is a cosmopolitan city and respects all religion when far more liberal countries like Canada are not allowing Sikhs to practice their religion freely. Dubai's efforts are commendable, also it's a credit to the Sikh community here to start a gurudwara."
Source: Ajanta Paul, Emirates 24/7 News