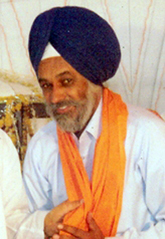 Patiala, Punjab: Unidentified assailants on Tuesday night shot at and seriously injured Rulda Singh an activist of Rashtriya Swayamsevak Sangh (RSS) in his shop at grain market situated on Sirhind road. He is former state Chief of RSS.
According to police sources two persons came to Rulda Singh's Shop cum flat at Grain Market around 10. 30 PM and they opened fire upon him and ran away on a car waiting outside. Atleast one person was waiting in the car, sources said.
Rulda Singh was found in pond of blood by his son and immediately taken to Local Rajindra hospital from where he was shifted to PGI Chandigarh. Sources said that one bullet hit on his neck through nose and one or two bullets were hit in the chest, sources said.
Meanwhile Tripuri police station has registered a case under the section 307 IPC and 34-35 of arms act. Police has started search operations immediately after the information came.
According to Rulda Singh's son Rajinder Singh his father's condition was stable and shifted to VIP room. He said that Doctors have removed five bullets from the abdomen and two bullets still in the body of his father. He said that one bullet still in his head and another yet to extract from the abdomen.
He said that accused has been waiting for Rulda Singh to come back to his house and when his father came and parked the car out side the SCF persons came out from nearby car and open fired upon him.
RK Sharma, SP (City), said senior police officers had visited the residence of Rulda Singh immediately on getting information of the attack.
Sharma said an NRI, Dalbir Kaur, had been questioned in connection with the attack. Rulda Singh is reported to have spent some time with the said woman who had approached him for help in some case.
Dalbir Kaur is reported to have told the police that she could identify the attackers.
Rulda Singh joined RSS and become an active member of RSS. He was elected president of state unit of Rashtriya Sikh Sangat a wing of RSS. Akal Takht had issued an edict that Rashtriya Sikh Sangat was an anti-Sikh organisation.
Rulda Singh was critical of Punjab Government and had welcomed the resignation of Sukhbir Singh Badal as Deputy Chief Minister. He also demanded that the BJP should lead the SAD-BJP government of Punjab. He also raised the demand that seat of chief Minster-ship should be allotted to BJP.
He also said that it was BJP who has helped SAD' supremo Parkash Singh Badal twice to become chief minister of Punjab. Now it was the duty of Badal to handover the reins of Punjab to BJP for the rest of the tenure.