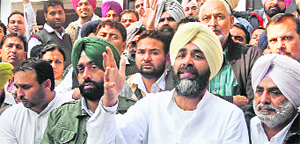 Chandigarh, Punjab: In a short span of eight months, the People's Party of Punjab (PPP) headed by Manpreet Singh Badal has faced enormous challenges at the political and other levels. Its troubles continue to breed.
The latest jolt came for it when its two senior leaders — Jagbir Singh Brar and Kushaldeep Dhillon — quit the party to join the Congress. Earlier, a number of other leaders, including Varinder Singh Bajwa, had also bid farewell to the party. Brar and Dhillon were known staunch loyalist of Manpreet, who was depending mostly on them with regard to taking vital decisions pertaining to the party.
The PPP was launched with great fanfare at Khatkar Kalan, the native village of Shaheed Bhagat Singh, on March 27 this year. Cobbling together various political outfits, Manpreet had formed a 'Sanjha Morcha'.
Besides his party, its other units are the CPI, the CPM and the Shiromani Akali Dal (Longowal) patronised by former Chief Minister Surjit Singh Barnala. But there are reports that Gagandeep Singh Barnala, son of former Chief Minister Surjit Singh Barnala, is keen to join the Congress.
However, no one from the SAD (Longowal) today attended the meeting of the coordination committee of the Sanjha Morcha at which leaders of the CPI, CPM and the PPP were present. Insiders in the PPP said that Manpreet is expected to meet Barnala tomorrow to clear various issues, including reports regarding Gagandeep Singh joining the Congress.
In fact, Manpreet Singh is pitted against two formidable political forces — the Shiromani Akali Dal headed by Parkash Singh Badal and the Congress — in the state. Leadership of both the political forces has gone all out against him to disallow the emergence of any third political alternative in the state.
The first to launch an attack on Manpreet was the Shiromani Akali Dal. Now, the Congress has dealt him a big blow by luring away his two senior lieutenants.
There is a possibility that he may face more aggressive political attacks in the days to come from his opponents, who are otherwise feeling threatened. Obviously, his opponents would like to see more ground slipping from under his feet.
Months ago, Manpreet had made a good beginning by putting some important issues pertaining to the state and its economy on the political centrestage. But that beginning is being eclipsed by developments such as defections by his senior party leaders.