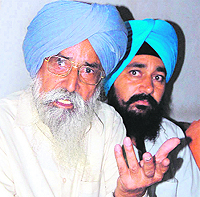 Amritsar, Punjab: The Khalra Mission Organisation (KMO) has called upon people of Punjab to boycott the Congress, Shiromani Akali Dal and BJP and seek probe into properties acquired by leaders of these political outfits.
The KMO has also demanded release of all Sikhs and others, including Davinder Pal Singh Bhullar, Jagtar Singh Hawara, Balwant Singh Rajiana, Navtej Singh and Daljit Singh Bittu, from jails.
"The three parties have failed to keep promises to people of Punjab and have encouraged corruption apart from targeting the Sikh ideology. People of Punjab are gripped by drug-addiction, pollution and deteriorating health and education sectors. On the other hand, leaders of all these parties, particularly ministers and MLAs, have been fighting to increase remuneration and perks at the cost of the state exchequer," said KMO leaders, including Harmandip Singh Sarhali, president, Dalbir Singh, patron, Rajwinder Singh Bains, general secretary of the Punjab Human Rights Organisation, Kirpal Singh Randhawa.
Earlier, they paid tributes to human rights activist Jaswant Singh Khalra on his 14th anniversary by holding an ardas at Akal Takht.
The leaders alleged that the three parties had been trying to befool people of Punjab by not honouring promises and their election manifestos. "We ask people of Punjab to teach these parties a lesson by boycotting them at social level," they said.