Bay Area: Sarabjt Dhundha, a controversial missionary, delivered provocative sermons ridiculing Bani of Guru Gobind Singh and Sikh traditions for past several years. This finally resulted in massive protests during his California tour in April 2016.
Bhai Dhunda was scheduled to speak at AGPC Gurudwara sahib at Milpitas,CA for five days from April 17 to 21. There were peaceful protests against him and his hosts outside Gurudwara gate as protestors were barred from entering Gurudwara sahib by the police at the direction of Gurdwara committee.
Finally, on April 20th, a meeting was arranged between Bhai Sarbjit Singh Dhundha and Panthic Singhs.
Bhai Dhundha's arrived about three and half hours late for the meeting. While the meeting was originally scheduled to begin at 3:00 pm, it did not start till after 6:30 pm due to the delay in arrival of Bhai Dhunda. It was due to the time lost because of this delay in arrival, that several controversies raised by Bhai Dhunda and other issues could not be discussed and still remain pending.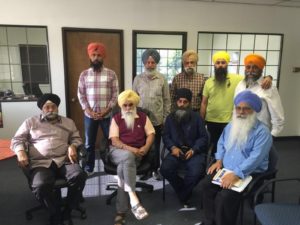 Sources have told Sikh Sangat News that one person accompanying Bhai Dhundha was attempting to disrupt the proceedings, leading to a further waste of time. He made many attempts to scuttle this meeting by raising irrelevant points. He continued to do this in spite of several warnings by moderators. It was because of the restraint exercised by the Panthic Singhs that the meeting continued. Dr. Harbhajan Singh was not allowed to speak freely (he spoke less than 10 mins in the meeting which lasted an hour) but the Sikh Sangat still kept their peace for that day and announced not to go with the protest. The meeting was adjourned when some people interrupted it, stating that Bhai Dhunda was scheduled to perform Katha in the main Darbar Hall.
Of the several issues which Bhai Dhunda has reportedly accepted the position of the Panth include: 
Accepting that the three Banis namely Jap Sahib, Tav Prasad Swaiye and Chaupai Sahib are indeed compositions of Guru Gobind Singh Sahib. These Banis are a part of the daily Nitnem of a Sikh and are also read during preparing Khande di Pahul by the Panj Piaray.
 He accepted that his using disrespectful language for the Sri Dasam Granth Sahib during a recent interview in Canada was due to a 'slip of tongue'. He initially denied that he had used any derogatory language, but confessed upon seeing the video clip of that interview he had done in Canada. He was then asked to refrain being disrespectful to the Granth of the Tenth Master in future.
He also accepted that it is a recommended practice for the Sikhs to do Nam Simran by repeating the Gurmantra at Amrit vela, as described in Sikh Rehat Maryada.
Points that still remain to be resolved include: 
Bhai Dhundha's remarks in regards to the Sarbat Khalsa held in Nov 2015. In one of the interviews he had mentioned that he, not only, did not consider it a Sarbat Khalsa but also stated that the 6-7 lakh individuals who participated in that historic meet was a crowd of people gathered from the roadside and they were not Sikhs but followers of Deredars and under influence of Radhasoamis. He still needs to apologize for these insulting remarks to soothe the feeling of the Sikhs
His continued sarcastic remarks against Sikh traditions and history which dates back to the period of the Guru Sahiban.
He needs to clarify his position about and continued close association with excommunicated persons like Darshan Singh Ragi and Inder Singh Ghagha etc.
 Those members of the Sikh Sangat deserve to be thanked whose tireless protests against the controversial utterances of Bhai Dhunda compelled him to come to the table and accept the authenticity of three out of five Nitnem Banis as being composed by Guru Gobind Singh ji and the concept of Nam Simran as instructed by Guru Sahiban and enshrined in Sikh Rehat Maryada.