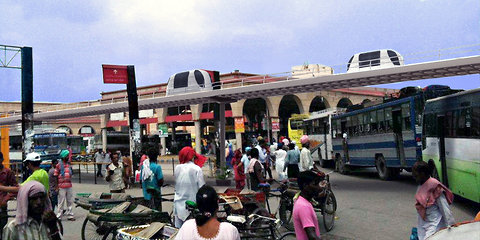 Amritsar, Punjab: ULTra Fairwood, an engineering company in India, announced this week that it reached an agreement with the Punjab government to build a personal rapid transit system in Amritsar, an Indian city of 1.5 million. The system would be based on the pod-car technology of ULTra Global PRT, which recently completed a proof-of-concept at Heathrow Airport in London.
Fraser Brown, managing director of ULTra Global PRT, said in a telephone interview that the system would consist of 200 automated electric pods, roughly 10 times the number operating at Heathrow, and would shuttle an average of 100,000 passengers per day over 3.3 kilometers, or roughly two miles, of track. Among the route's seven station stops would be the city's principal bus station, the railroad terminal and the Golden Temple, a major Sikh shrine.
Mr. Brown would not disclose the price of a fare, saying only that passengers would pay a comparable price to that of other modes of public transportation.
Construction on the system would begin in 2012, Mr. Brown said, with an eye toward starting service in late 2014. Aside from the larger scope and complexity of the system, the difference in climate between London and Amritsar would require alterations to the pod cars and their dedicated guideways.
"We are looking at the pods operating in temperatures of 50 Celsius [122 Fahrenheit] and in monsoon rain conditions," said Mr. Brown. "This has required design changes to the track to cope with water runoff and a revamp in the pod air-conditioning system." The car will also be redesigned to carry six passengers, rather than four with luggage, as it is configured at Heathrow.
He said that any changes to accommodate local conditions would not impact the fundamentals of the system.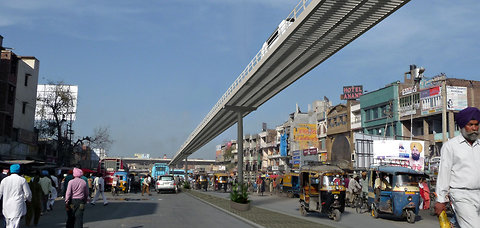 "Besides the Heathrow proof-of-concept, we have done a lot of behind-the-scenes simulation and testing in this area," Mr. Brown said. "We are absolutely confident the control and safety systems are scalable and robust." He also reiterated that the safety system had received regulatory signoff in Britain.
Amritsar is the host of as many as 500,000 Sikh pilgrims on major holidays who visit the Golden Temple. Prompted by concerns about exhaust fumes damaging the building's facade, which was built in the early 17th century, the government has banned nonessential motor vehicle traffic within a one- to two-kilometer radius of the shrine. Pilgrims consequently must walk or hire pedal-powered rickshaws to reach the temple. Mr. Brown expects the electric-power pod-car system to accommodate up to 35 percent of these visitors.
With private investment, ULTra Fairwood will design and build the system for the Punjab government and operate it as a concession under a 30-year agreement. Fairwood would license the pod-car technology from ULTra Global PRT in a franchise-style agreement, according to Mr. Brown. His company, which is based in Britain, would receive payment for consulting services, which he estimated at £2 million, or roughly $3.1 million, over the next two years. ULTra Global would also receive an estimated £5.4 million over the 30-year concession agreement, representing a share of the fares collected. He declined to disclose the projected costs to build and operate the system, but he estimated that the system would recoup its costs to investors after five years of operation.
Source: Jim Witkin, NY Times