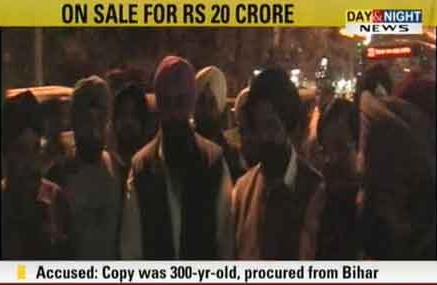 New Delhi, India: Three persons have been arrested by the Karol Bagh police on charges of trying to sell of an 300 years old manuscript of Guru Granth Sahib ji. The accused were trying to sell the holy scripture of the Sikhs at an amount of Rs 20 crores.
The accused who have been identified as Praveen, a hotelier from Karol Bagh; Kalyaneshwar Gautam from West Champaran Bihar and Santosh Singh from Mirzapur in UP revealed during interrogation that they had procured it from Gurudwara Patna Sahib. Meanwhile, the police have sent a team to Bihar to further investigate the matter, and experts have been indulged to unearth the historicity of the sacred book.
As per the sources, the police had been tipped off regarding the accused and their attempt to sell the sikh holy scripture. A police team was sent to raid the place but they, however, managed to escape. After learning about the involvement of Praveen, Hotel Rahul Palace was raided in Karol Bagh and the trio was arrested. The police have recovered the copy of Guru Granth Sahib ji from the hotel room.