Thursday 8th August 2019
New Walk Museum and Art Gallery, Leicester, UK
Thursday 8th August saw the launch of a new ground breaking Anglo Sikh Virtual Museum (ASVM), a revolutionary project bringing to life Sikh relics and artefacts, at New Walk Museum in Leicester UK. The well attended event was hosted by respected community Sikh representative, Daljit Makan, who introduced speeches by Councillor Piara Singh Clair (Deputy City Mayor of Leicester), Chris Kirby (Engagement Manager, Leicester Museums) and Taranjit Singh of (Taran3d).
This then led into the panel discussion on the importance of using technology and preserving Sikh history and heritage with panellists: Dr Opinderjit Kaur Takhar (Course leader of Religious Studies and Director of the Centre for Sikh and Punjabi Studies), Susan Stronge (Senior Curator at the Victoria and Albert Museum) and Gurinder Singh Mann (Historian and Director of the Sikh Museum Initiative). The discussion centred on how important this technology is and how audiences could learn more about history through these mechanisms. It was noted that Anglo Sikh history was missing from the school curriculum and projects like this could lead the way to resolve this. Another point made was that projects such as this one, could enhance museum participation and encourage more people to visit them.
Gurinder Singh Mann, Susan Stronge and Dr Opinderjit Takhar.
Whilst all three panellists agreed that there's no substitute for viewing artefacts and relics in their natural form, Gurinder spoke about how 3D technology can allow one to preserve, manipulate, rotate, print and touch an object that would not be possible if the object was viewed in a museum.
Dr Opinderjit Kaur Takhar from the University of Wolverhampton highlighted how educational institutions use technology as a means to deliver course materials and many young children could be attracted to learn about Sikh history by harnessing 3D technology. Susan Stronge from the V&A Museum described how by accessing artefacts using such technologies, this could lead to many more people visiting museums to view the original object and this could increase footfall, especially amongst the younger generation.Virtual Reality and 3D technology certainly have a large role to play in engaging those in society that may not otherwise visit museums. Furthermore, it can certainly play a critical role in preserving artefacts that are too fragile or indeed recreating those artefacts that may have been lost.
The 3d relics
3d recreation of a Panjangla originally belonging to Maharani Jindan Kaur.
Some of the objects are from the Sikh Empire and link the Court of Maharajah Ranjit Singh (1780-1839) through to his granddaughter, the prominent suffragette Princess Sophia Duleep Singh (1876-1948), highlighting the relationship between Sikh and British communities. Objects like jewellery and weaponry have been made available from museums and private collectors and the project will, in the future, encompass other different types of relics.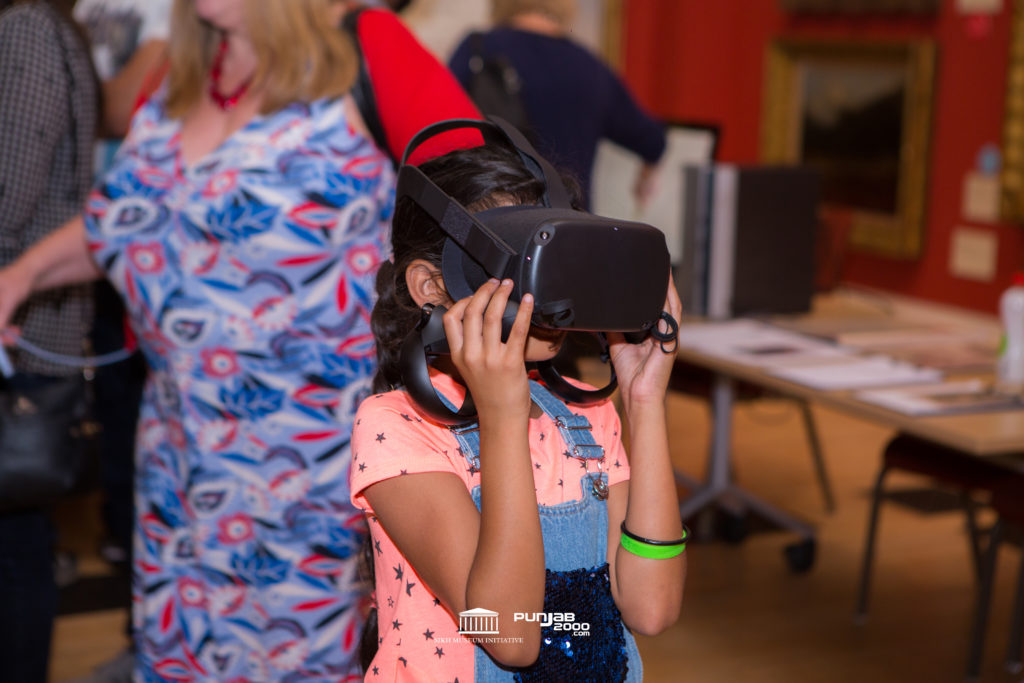 Guests at the launch had the chance to view the objects on touchscreen monitors and through revolutionary Virtual Reality headsets. The website was launched on the birthday of the Princess Sophia Duleep Singh by Kartar Singh(Sikh Museum Initiative). Refreshments were provided by Guru Tegh Bahadur Gurdwara, Leicester. We would like to thank all the people who came to the event from across the UK, including Councillors, members of the Armed forces, Guru Amar Das Gurdwara and Ramgharia Gurdwara, Leicester, and Curators from Ancient House Museum (Thetford), and members of the public for attending.
New objects will be added to the website, culminating in a full interactive 3d Sikh online museum in 2020. The Anglo Sikh Virtual Museum can be seen at www.anglosikhmuseum.com and is funded by The National Lottery Heritage Fund and supported by Taran3d and many museums across the UK.