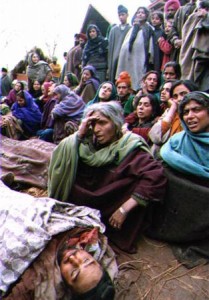 Srinagar, J&K: Jagdish Singh Azad, 60, is one of the Sikh leaders who motivated his community to stay back in Valley in 1990 when majority of the Kashmiri Pandits left after armed insurgency broke out in Kashmir.
Almost 20-years down the line, Azad feels that his decision was right. "I was young at that time, but decided that we should stay back with our Muslim brethren in the hour of crisis. Though several elements within Sikh community were instigating people to migrate, we resisted. It would have been breach of trust with Muslim brethren if we would have left," Azad who recently joined National Conference told Greater Kashmir.
On Chattisinghpora massacre where 35 Sikhs were killed by unidentified gunmen in 2000, he said, "We have been demanding impartial probe into the incident for the past nine years. At that time we requested governments of India, Punjab and J&K to probe the matter, but nothing came out. It has created doubts in the minds of Sikh as who killed 35 innocents that night."
"It seems it was handiwork of some agency to create differences between Muslims and Sikhs in the state. But Muslims stood by Sikhs in that hour of crisis and showed centuries old tradition of living in communal harmony," he added.
He alleged that several organizations were playing politics over human rights violations in Kashmir. "Nobody should be allowed to play politics over the miseries of the Kashmiris."
Azad says that Sikh community acknowledges that Kashmir is a disputed territory. "It is an internationally accepted dispute and should be resolved through peaceful means. India, Pakistan and leadership of Kashmir should sit together to find a viable solution of the problem."
He termed autonomy as best solution of the problem. "It will restore our dignity and is the most viable solution which should be acceptable to all the parties involved in the dispute."
On his decision to join NC, Azad said, "It is the party of masses and always protected the interests of the minorities. NC founder Sheikh Muhammad Abdullah gave representation to the Sikhs in every field. But unfortunately after his death, the process stopped. Now I have high hopes that Omar Abdullah will give fair representation to the Sikhs."
He regretted Sikhs were not given any representation in the Working Groups on Kashmir." Every community was involved in WGs, but Sikhs were ignored which is unfortunate."
Source: Greater Kashmir