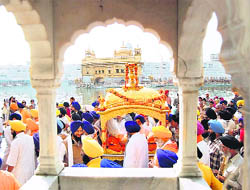 Amritsar, Pun jab: Spirituality and religious fervour filled the air as thousands of devotees from far and wide, irrespective of caste or religious affiliations, participated in the nagar kirtan organised in the holy city today by the SGPC and the management of the Golden Temple in connection with the birth anniversary of Guru Nanak Dev.
While the holy city wore a festive look, the nagar kirtan procession took off from the Golden Temple complex at around 12 noon and the procession passed through beautifully decorated Brahmbuta market, Chowk Ghanta Ghar, Bazar Mai Sewan, Bazar Kaathian, Bazar Papdan, Bazar Baansan, Chowk Chatti Khuhi, Chawal Mandi, Chowk Karori, and Chowk Pragdas and returned to the Guru Ramdas market in the evening.
Members of various religious sabhas and societies, students of schools and colleges along with their bands, band parties of the city, members of different 'gatka' parties, the staff of the SGPC and its Dharam Parchar Committee and Sikh devotees participated in the event.
Banners and gates laden with flowers greeted the devotees, who followed a beautiful "palki" carrying Guru Granth Sahib. The procession was led by Panj Piaras. The 'chaur sewa' was performed by the working Head Granthi of the Golden Temple, Giani Jaswinder Singh.
The devotees were served with langar of sweets, tea and fruits by shopkeepers and residents.
Parmjit Singh, information officer of the SGPC, said, "The procession dedicated to the Parkash Utsav will be organised between 10 am and 12 noon at the Golden Temple, the Akal Takht and Gurdwara Baba Atal Rai on November 2. Jathas of students of various schools will be rendering kirtan at Dewan Hall, Manji Sahib, on the morning of November 2. Similarly, kirtan will also be held in the evening.
Devotees will be enthralled by elaborate fireworks and deepmala at the Golden Temple on November 2.
Source: TNS