Yuba City, California: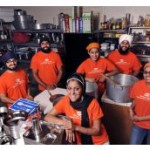 SEVA — which translates from ancient Sanskrit to "selfless service" — is the call to action used by a growing cadre of young Sikh volunteers helping feed needy and homeless people in the region.
It started in April, says Yuba City native Daman Singh Bhangu, one of the group's founders.
Bhangu, 27, a college graduate in the process of applying to medical schools, says that he and a small group of friends had grown tired of the club and party scene they had been part of for too long.
"Why do we do this?" they asked themselves one night of their regular treks to San Francisco. "We go there to party. That doesn't benefit anybody."
Bhangu says the culture they were raised in values community service and frowns upon self-involvement.
It was time to get on board.
"I think this comes to people's minds when they grow up," he says.
The friends quickly organized a public feed at UN Plaza in San Francisco, not far from the Tenderloin, an area known to attract young runaways, drug addicts and the homeless.
"It wasn't very organized at first. It was kind of a mess," says Jindgeet Sanshi, 25, who, along with Banghu and a half dozen others from the group made an appearance on Sunday at a health fair in the Richland Housing area.
Still, they managed to feed about 350 people that first day, and the effort became a monthly event.
They soon expanded to Sacramento, where they set up around the corner from a homeless shelter on the second Saturday of each month.
Now, they are ready to learn the ins and outs of the homeless camps here at home, Banghu said.
The food is prepared at a variety of locations.
One of the group's member's cooks huge vats of basmati rice. Another uses the kitchen in his home in Natomas to make chole — a hot Punjabi dish made with garbanzo beans.
Another member in Roseville makes roti, an Indian flatbread. And the rice pudding man does his work in Yuba City.
Proselytizing is forbidden, and showcasing any religious aspect of the culture that is at the root of the group's efforts runs counter to their aims, says Bhangu.
"We don't do this for religion. Our purpose is to serve food, and that is all," he says.
The recipients, he says, "are just getting a meal. We're getting a lot more out of this. It helps us grow as human beings."
Sanshi, who works as a pharmacist at Peach Tree Clinic, says the spirit behind the group's actions is key.
"If you're doing something to get something back, it's the wrong reason," he says.
A Natomas restaurant owner now provides the food for the Sacramento effort. Those involved chip in for other expenses.
They will accept donations from the public, but would rather encourage members of the community to join the effort or to start their own efforts to lift up those less fortunate than themselves, says Sandeep Johal, 24, of Yuba City.
Young people who want to participate but have no means, the group's members say, will be reimbursed for transportation expenses or will be given a ride.
"We'd like kids to come help us," says Bhangu. "There's a lot of homeless here in this community."
Read more:
Source:www.appeal-democrat.com