40 pc deficient rains in June, July lead to pumping out of water to irrigate paddy crop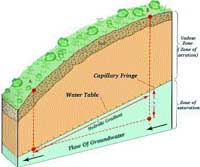 Amritsar, Punjab: Environmentalists and agriculturists have expressed acute concern over the sharply-depleting ground water levels for the cultivation of paddy in the border region here.
The state has recorded 40 percent deficient rain during the month of June and July but some showers in August have redeemed the situation slightly.
According to reports in the media, the ground-water-level-situation in Punjab had been quite grim but effective measures taken by certain NGOs backed by the government, for the last two years, have created a situation where the fall could be termed relatively insignificant.
It is pertinent to mention here that a strong message was sent to the farming community with a sustained advertising campaign and efforts of the agriculture department seeking the cooperation of the peasantry to plant paddy saplings not before June 30 and sow paddy at the advent of the monsoons in July.
This strong message had helped to preserve groundwater resources but the deficient monsoon this year has raised several key questions about the declining water-table.
District Chief Agriculture Officer Paramjit Singh Sandhu said with literally no rains in May and June this year, farmers were forced to pump out water to sow paddy. He, however, added that the little more than 37 percent rain during July and August, roughly about 160 mm, was not sufficient for the cultivation of the paddy crop during the Kharif season.
He said due to the efforts of the agriculture department and several NGOs, they have been able to educate farmers to go for Basmati cultivation which has now been sowed on 90,000 hectares, which is 50 percent more than last year.
He added that the total area under paddy cultivation was around 1.83 lakh hectares and farmers had to put in an extra input of Rs 1,500 to Rs 2,000 per acre to use diesel for engines to pump out water to keep the paddy crop alive.
He said it seems that August, which is giving some hope with belated rainfall would be sufficient for an excellent crop this time. Sandhu said during the Kharif season, farmers have gone for PUSA 1121 and other varieties of Basmati which are water saving crops unlike Permal and other varieties, which consume a lot of groundwater.
PS Bhatti, eminent environmentalist said the water table, which had remained at par for last two years, had rapidly depleted during the current season as farmers had overdrawn water. He cautioned the government to be careful about the overuse of groundwater and said new methods should be devised to cultivate paddy varieties which require lesser water to help preserve the natural reserves.
Sources: TNS
Related News