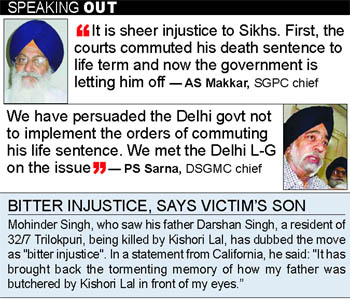 Amritsar, Punjab: The SGPC has decided to make legal efforts to prevent the commutation of life sentence of Kishori Lal, who has been convicted of multiple murders during the 1984 anti-Sikh riots in the national capital.
SGPC chief Avtar Singh Makkar said, "It is sheer injustice to the Sikhs. First, the courts commuted his death sentence to life term and now the government is letting him off."
He alleged the government was adopting double standards for the Sikhs. "On the one hand, it (the government) is not commuting the death sentence of Devinder Pal Singh Bhullar despite the fact that there are no witnesses in his case. On the other hand, it is commuting the term of a person who has been convicted by the courts."
While the SGPC is weighing legal options, DSGMC chief Paramjit Singh Sarna claimed, "We have persuaded the Delhi government not to implement the orders of commuting Lal's life sentence. The breakthrough came after we raised the matter with the Delhi Lieutenant-Governor." Apart from the SGPC and the DSGMC, other Sikh outfits too have come out against the decision. The All-India Sikh Students Federation (AISSF) is gearing up to file a PIL challenging the commutation of Lal's life term. AISSF president Karnail Singh Peermohammed dubbed the move as a "well-planned conspiracy". He said they would also take out a "Justice Rally" against the L-G's decision in New Delhi on February 16.
Radical Sikh outfit Dal Khalsa leader Kanwar Pal Singh said, "Instead of prosecuting the high and mighty conspirators, the state is letting off the convicts of riot cases."
A former butcher based in Trilokpuri, Lal was sentenced to death seven times by lower courts. However, the Supreme Court commuted them to life terms later. Lal was among 25 people convicted by courts for offences connected to the 1984 riots and has spent around 16 years in jail. Delhi L-G Tejendra Khanna had recently commuted his life sentence on the recommendation of the state's Sentence Review Board.