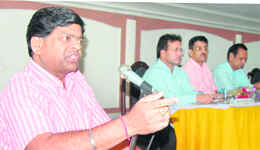 Chandigarh, Punjab: Punjab alone can rescue the entire nation from food crisis emerging out of the negative state of monsoon. This was stated by Harish Chander, President, Food Corporation of India Officers Association of Punjab (FCIOA) and Regional Manager, FCI, here today.
He said the FCI was confident that the Central government was working on the National Food Security Act that would ensure food security to all.
Around 100 officials from all over the state belonging to the regional and district-level committees brainstormed over the safe storage of 60 lakh tonnes of rice. They were taking part in a state-level meeting of the FCIOA.
Harish Chander said: "The country has witnessed four good seasons of wheat and paddy and the credit goes to the state. Our damage through transit and storage losses has been minimal in comparison to various other countries like Canada and Australia".
"The FCI has constantly controlled the prices of wheat and rice to a certain extent through its buffer stock despite skyrocketing price rise in other commodities. Our staff strength is 50 per cent less now still we have generated good result. Therefore, we want justified pay scales on a par with oil companies and redressal of various other demands of our officials," he added.
The meeting of the office-bearers of the regional as well all district committees of the FCIOA was held to solemnise the regular regional committee and to form modalities for organising regional conferences. Various grievances of officers of the region were also discussed.