Amritsar, Punjab: Panj Piyares of Sri Harmandir Sahib here today asked the resignation of all Five Takht Jathedars. They also want SGPC to remove all of their belongings from the Takht premises they represent.
However, all the five Jathedars who were asked to appear at Akal today didn't turn up on the call of Panj Piyares today.
Addressing the media persons Bhai Satnam Singh one of the Panj Piyares said that they have asked the SGPC to terminate the services of Jathedars immediately including Jathedar Akal Takht as Sikh Community have no more faith on them due to recent anti Panth acts which created furor and restlessness in the community.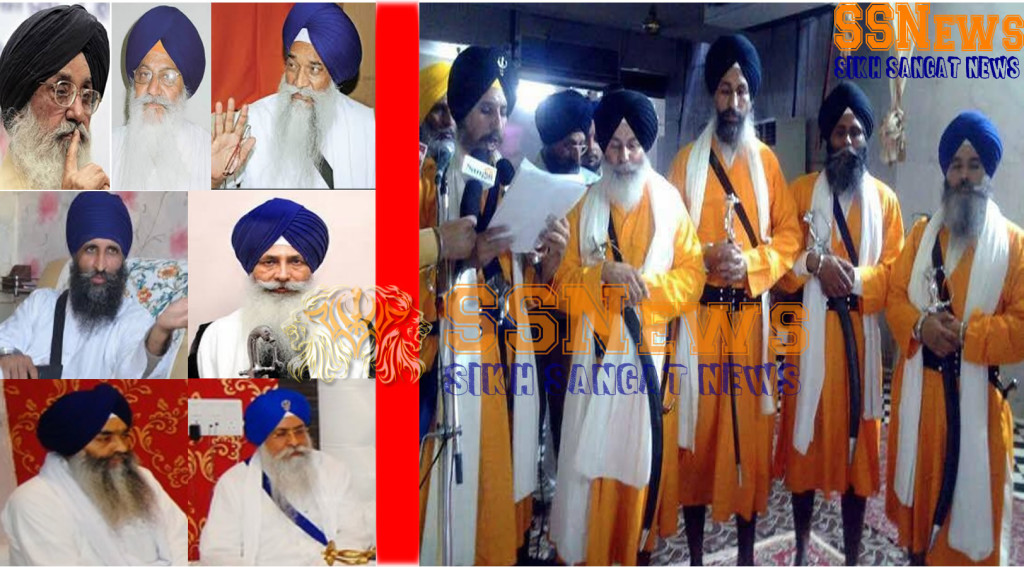 When asked they were already suspended by the SGPC how they could announce any decision in this regard, they said SGPC has suspended their employees and they were here in the capacity of Panj Piyares who always remained independent to take any decision in the larger interest of Sikh community. They further said that Panj Piyares working could never be challenged by SGPC.
Panj Piyares who announced religious edict were Bhai Satnam Singh, Bhai Mangal Singh, Bhai Major Singh, Bhai Satnam Singh and Bhai Tarlok Singh on Friday from Akal Takht Sahib where they had used to gather to administer Amrit (baptization) to Sikh Sangat.
On October 21, Panj Piaras have summoned five Sikh High Priests including the Jathedar Akal Takhat Gyani Gurbachan Singh on October 23 to seek their explanation on pardoning Dera Sirsa Chief Gurmeet Ram Rahim Head and later withdrawing the pardon.
Notably, it had happened first time in the history of Sikh community when sitting Jathedars of Takhts Authority and working was challenged and questioned. Panj Piyares have to take this step because of Jathedars were operating strictly under the orders of Badal party. Badal camp wanted Akal Takht to pardon Sirsa Dera chief in order to secure vote bank of Sirsa Dera's followers.
The Gurmata for summoning Gyani Gurbachan Singh, Jathedar of Akal Takht, Giani Iqbal Singh Jathedar of Takht Patna Sahib, Giani Mal Singh Jathedar of Takht Kesgarh Sahib, Giani Gurmukh Singh Jathedar of Takht Damdama Sahib and Giani Ram Singh Dhoopia, of Takht Hazoor Sahib, Nanded was passed by the five Panj Piaras.
Earlier on October 21, one of the Panj Piara Bhai Satnam Singh said that decision to pardon Dera Sirsa Chief was taken by Jathedars without consultation with any of the Sikh groups and intellectuals or taking them into confidence and has put the Sikh Qaum (Sikh community) in turmoil. Besides, it has put the Panth into an embarrassing position. They said that according to Sikh tenets even the jathedars of Takhts were answerable to the Panth so they must explain their decisions and the rationale behind the same.
However, on the same day on October 21 in a retaliation move, Shriomani Gurdwara Pharbandhak Committee (SGPC) President Avtar Singh Makkar suspended all the Panj Pairas who dared to summon five Sikh head priests at Akal Takht. This step by Chief Makkar brought thunderous backlash from millions of Sikhs.