Sikhs are a unique group of people that don't write their history in ink, they write it in blood and Martyrs, the movie, is a testament to that. Martyrs is a second a documentary created by Jagmeet Singh Samundri, after his awarding winning documentary called 'Rise of The Khalsa'. And now he is all set to create history by being the first in India to release in cinemas with Dolby Digital. Martyrs, the movie, is going to open doors to a new way of Cinema in India.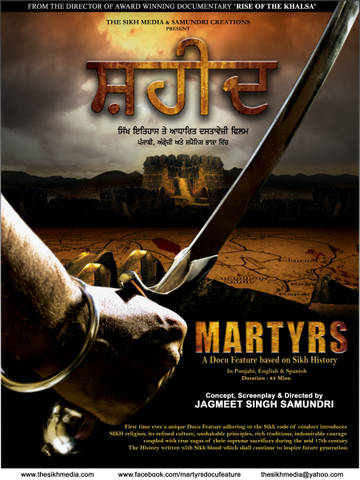 Not only is it going open new doors, it is going to revolutionize Sikh media forever. Up until now Sikh documentaries have been very cartoonish in attempt to not violate Sikh Rehat Maryada (especially the part about not showing Guru Sahiban) but not anymore. Martyrs has been made using computer graphics, special effects and treated all the pictures in 3D animation to give this documentary feature film a professional look, not a cartoonish one. 3 years of working day and night, the topmost professional technical managed to create a documentary feature film on Sikh history that is at par with any Hollywood documentary feature film.
This top-notch 87 minutes documentary feature film is a journey that starts with Guru Nanak Dev Ji and brings us all the way to the present. In the first 15 minutes we are reminded of how and why Sikhism was created by The Guru Sahiban, the purpose of it all. Because without the basic knowledge, it is impossible to understand what is so important in Sikhism that people are willing to die for it. After laying the foundation the journey continues with the audience coming face to face with the many martyrs that have laughed in the face of death.
Starting with middle of 17th century the film talks about the various Sikh Martyrs that lost their lives under cruel rule of Aurangzeb. Upon taking the reins of Mughal Empire Aurangzeb began the cruel policy of forcing people to either accept Islam as their religion or accept death. There was no third option! Guru Tegh Bahadur Ji was one of the prominent figures of the time to accept Martyrdom to raise a voice against Aurangzab that his policy is not correct. And this movie talks about Guru Tegh Bahadur Ji's martyrdom and the impact it had on the direction of Sikh religion. It goes on to talk about the establishment of Khalsa Panth and the many Sikh warriors that served Khalsa Panth with everything including their lives. Finally the movie comes full circle at the climax by connecting back to the present times.
Talking of present times, are the presents Sikhs ready to support the future of Sikh cinema? Or will they miss this chance and complain about not having decent Sikh videos to share with their children and grandchildren, friends and family?
Come join us this summer at theatres to welcome this new of Sikh cinema in English, Punjabi and Spanish. We promise you won't regret it.
If you have any questions or want to lend your support please visit TheSikhMedia.com or contact Jagmeet Singh Samundri directly @ 347-893-7091. Join their Facebook Fan Page @ http://www.facebook.com/martyrsdocufeature
Author: Sanmukh Kaur, Global Sikh News