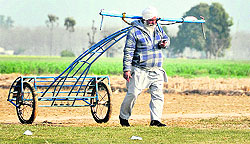 Kila Raipur, Punjab: Sports enthusiasts at the 76th edition of the Rural Sports Fair were left disappointed with the organisers announcing this afternoon that there would be no bullock-cart race. Hundreds of bullocks remained fastened to carts in fields outside Grewal Sports Stadium here. "The event has been banned without any prior notice," lamented a dejected Nirmal Singh of Dehliz village.
Maintaining that the Madras High Court had recently given the go-ahead to organisers of Jallikatu, a bull taming sport, Jarnail Singh of Jandali said a trader from South India had purchased a pair bulls for him for the Kila Raipur games.
Animal rights activists have been opposing bullock-cart races, alleging cruelty to the animal. While Chief Secretary Subodh Chandra Agrawal said the government had not banned any sports activity as it had not received any communiqué from the Animal Welfare Board of India, (AWBI) on the issue, the Ludhiana DC said he had banned the races "as there are orders from the AWBI." "It is a sad day in the history of this sports festival," said Jagbir Singh Grewal, an office-bearer of the Grewal Sports Association. "We have been making sure that bullock owners do not ill-treat the animal," he added. The association has decided to move the High Court. Baba Bakshish Singh of Kila Raipur had started this sport in 1953.