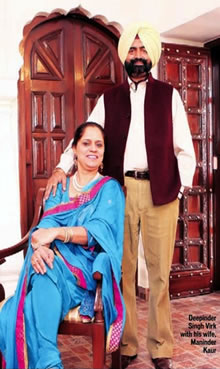 Rupnagar, Punjab: Rupnagar is home to a historical fort, which is inhabited by a royal descendant and his wife. Together, they have converted a portion of the 228-year-old Bharatgarh Fort into a homestay, to offer visitors a glimpse into the past.
Bharatgarh Fort, possessing the stronghold of the Singhpuria Misl, has opened its gates to visitors to share with them a part of Punjab's rich past. The fort, located in Rupnagar district, is home to 52-year-old Deepinder Singh Virk, who inherited the property after seven generations. Virk is the 9th generation descendent of Nawab Kapur Singh Virk, who was once the commander of the Singhpuria Misl.
Constructed in 1783, the fort, despite its proximity to Anandpur Sahib Gurdwara (20 km away), Bhakra Nangal Dam (53 km away), Naina Devi (35 km away) and Ropar Wetland (10 km away), is still relatively unknown. So, Virk and his wife, Maninder Kaur, 50, have undertaken the task to unveil its history to visitors while working assiduously to preserve the property.
"This fort is difficult to maintain, but at the same time, we love living in a fort, which reflects the history and culture of Punjab. As we wanted to share this part of history with people, we converted a part of the property into homestay," shares Kaur. The couple spends R7-8 lakh annually on its upkeep.
Virk, a postgraduate in geography from Panjab University, Chandigarh, dreamt of shifting to the US, but decided to remain in India to tend to the fort. He shares, "It's all up to the sons, if they want, they can uplift the heritage of the family or they can be the reason for its downfall. I chose to be the latter."
Virk's mother, Inderjeet Kaur, 75, also resides at the fort. His two children, 21-year-old Bishas Kaur and his 16-year-old son, Gauhar Singh, have also grown up at the fort but are currently pursuing their studies in various parts of the country.
Gauhar is next in line to inherit the fort. "Despite Gauhar being a part of the modern tech-savvy generation, he is proud of his roots and feels a sense of duty to carry forth his family's legacy," Virk shares.
Heritage homestay The fort, which enjoys a riverside location of the Satluj, is ideally located on a small hill, spanning seven acres of land and flanked by 400 acres of forestland. So, with its potential to serve as a great weekend getaway, while offering visitors a peep into history, the couple opened up a portion of their home to tourists in October. The homestay has just three rooms and a common living area. "Since we did not want to disturb the fort's history, we decided to develop only a small fraction of the fort into accommodation," explains Kaur, who hails from Chandigarh.
It took the couple more than a year and a half to construct their homestay. They travelled extensively to various forts of India to get better acquainted with the architectural style, which they could implement into their own accommodation. The couple has attempted to keep the authenticity of the fort intact through the use of traditional architecture. They sourced antiques and artefacts such as deodar wood and antique stained glass windows (known as chameli and glucha), from places such as Saharanpur and Amritsar to embellish the hotel.
Many of the fort's original ele t ments still remain -its withered doors are surrounded by redbrick s walls made of nanak shahi bricks t and an old well, which is hard to come by these days. The fort also has a room, which houses the ances f tral weapons, but is not open to visi i tors out of respect for Virk's ances r tors and in an attempt to preserve his family's heirlooms. The couple still performs the customary puja in that room on a daily basis.
The homestay's three rooms, standard deluxe, deluxe and suite, range from R6,000-7,500 per night, and are inclusive of breakfast and dinner. All rooms have vintage furniture (hand picked from auctions), wooden doors and arched niches, to add to its old-world charm.
The fort is registered with Punjab tourism, but the couple refuses to commercialise the property so that they can maintain its exclusivity as well as their privacy. They have even turned down offers from Bollywood to shoot films at their property.
Living up to the `royal' tag The couple works hard to uphold Virk's family's name, and sustain their lifestyle. "There's no point flaunting our ancestry, if we don't have anything to show for it," says Kaur. So, the couple took a loan and established a paper cone unit in 1992 in Bharatgarh. "We have to work hard to generate revenue to maintain the empire and care for the people in and around the village of Bharatgarh, who have many expectations from us," she shares.
Due to the success of the paper cone unit, which is still in operation, the couple repaid their loan. In 2009, they created three fishponds on 8 acres of land. In the hospitality sector, the couple has plans to expand -in about a year's time, they will launch a small resort and spa near the fort grounds, which will comprise of tent accommodation.
As royal descendents, the couple also feels a sense of social responsibility. Daily, they arrange langar at the fort for villagers. Kaur has also been voluntarily serving as the principal of GMN Public School, Bharatgarh, for the past five years.
The pair has also provided the land for the primary healthcare centre in Bharatgarh.
Source: Usmeet Kaur