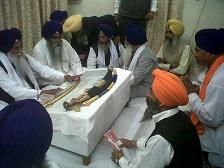 To Singh Sahib Giani Gurbachan Singh Ji,
We the above mentioned, on behalf of and along with widows, victims, and survivors of November 1984 Sikh Genocide urge you reject Amitabh Bachchan's claim of innocence and to support the prosecution of Bachchan for instigating killing of Sikhs in November 1984.
On October 31, 1984 after the death of Indira Gandhi, Amitabh Bachchan raised the slogans "Khoon ka badla khoon se laengae" and "khoon ke cheentain sikhon ke ghar tak puhanchanay chahiyay". These slogans were broadcast across India through the Door Darshan and All India Radio which openly incited attack on Sikh population of India. This call by Bachchan started the widespread, systematic and organized attacks against Sikhs across India resulting in the killing of more than 30,000 and displacement of more than 300,000.
Bibi Jagdish Kaur, Babu Singh Dukhiya and several others who watched the live relay on Doordarshan and saw Bachchan inciting violence against Sikh by shouting 'khoon ka badla khoon sae laengae' are ready to testify.
Despite clear evidence and witnesses available to testify against Bachchan's role in November 1984 killing of Sikhs, SAD (Badal) controlled SGPC is spearheading a campaign to seek clean chit for Bachchan from Sri Akal Takhat Sahib. This politically motivated move of SAD (Badal) will lower the prestige of Sri Akal Takhat Sahib and will hurt the sentiments of Sikh community around the world. Additionally, this move of SAD (Badal) is in defiance of July 2010 directive of Sri Akal Takhat Sahib declaring November 1984 killing of Sikh as "Genocide" and which urges all Sikhs to help in seeking justice.
In spite of availability of witnesses and pending criminal complaint against Bachchan in Australia, SGPC President Avtar Singh Makkar is seeking clean chit for Amitabh Bachchan. Since justice campaign for November 1984 Sikh Genocide is being run internationally under the patronage of Sri Akal Takhat Sahib, we urge you to:
a. Reject Bachchan's Claim Of Innocence b. Support The Filing Of Murder Charges Against Amitabh Bachchan; c. Summon SGPC President Avtar Singh Makkar To Explain His Defiance Of July 2010 Directive Of Sri Akal Takhat Sahib. d. Issue A Directive To SAD (Badal) And SGPC Members To Stop Supporting Bachchan's Attempt To Get Clean Chit.
Source: SikhsForJustic.org