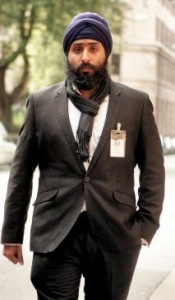 Manchester, UK: A Sikh policeman suing the force in a row over his turban has been told 'I'm sorry' by an official who dealt with is complaint. Gurmeal Singh is accusing Greater Manchester Police of racial and religious discrimination. It follows what he claims was a long-running row over his refusal to remove his turban on religious grounds. On day seven of an employment tribunal at Parsonage Gardens, Manchester, Roz Caplan, who worked for GMP's equalities unit admitted: "We could have dealt with it better." And – speaking directly to Mr Singh – she added: "I'm sorry." Mr Singh, aged 31, joined the force in 2003.
He says he was forced to remove his turban at a riot training station so he could put on a helmet. As a Sikh he says that made him feel "humiliated" and as if he had betrayed the oaths he made when he was baptised at 15.
In 2008 – claiming he feared he would again be forced to remove his turban at a further training session – he went off sick.
Mr Singh from Sale, also says he feared being made to wear a turban on top of a police helmet, similar to the one shown on an episode of TV's Only Fools and Horses.
Under cross-examination, Ms Caplan admitted meeting Mr Singh in August 2007 when he voiced his concerns. But she said that those concerns were not relayed to the proper parties, which failed to stop Mr Singh being called up for the course.
Ms Caplan, who left GMP last year, said: "We could have dealt with it better. What can I say?"
She then turned to Mr Singh and said: "I'm sorry."
Mr Singh who served at Northenden before moving to Wythenshawe station, is claiming £200,000 in compensation.
He also claims a senior  officer mistook him for a Muslim. He is being backed by the British Sikh Police Association, who are describing the case as a 'landmark.' Ms Caplan admitted the issue of removing turbans being a problem for Sikh officers first came to her attention in 1998. But she said that none of her recommendations for solutions were adopted by the chief constable.
Ms Caplan said as part of her research she had contacted the Indian Army and various Sikh organisations for advice but 'got different answers depending on who I spoke to.'
Earlier, an officer on the first training course had said Mr Singh had stuck in his mind because of his positive attitude. He said: "He appeared extremely keen to do the training which was refreshing because some officers turn up who just want to go through the motions."
Source: The Asian News