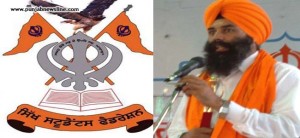 Jalandhar, Punjab: All India Sikh Students Federation (AISSF), while accusing the Congress vice-president Rahul Gandhi of inciting hatred against Sikhs, announced protests at Rahul's upcoming rally in Punjab.
Federation president Karnail Singh Peermohamad also challenged Rahul for an open debate on the role of Gandhi family in "genocidal attacks on Sikh community during 1984″ and then subsequent protection to perpetrators of anti-Sikh riots.
"Speaking at a public rally, Rahul Gandhi made a point to recall his anger after the death of his grandmother but did not mention at all the army action in Amritsar or massacre of thousands of Sikhs on the streets of Delhi," AISSF president pointed out while posing questions to him on the related issues on which he preferred to remain silent.
"Were your father Rajiv and his party so angry that they organized killing of thousands of Sikhs in broad daylight to avenge the death of Indira Gandhi? Why did the Gandhi family protect Congress leaders who lead death squads in November 1984 to kill Sikhs?", Peermohamad asked while adding that his statements during rally in Churu, Rajashtan, apparently justified the killing of Sikhs during 1984 like his father, who had said "when a big tree falls, earth shakes."
"We will protest and hold rallies at every location during Rahul's visit to expose Gandhi family's history of hatred towards Sikh community, added Peermohammad.