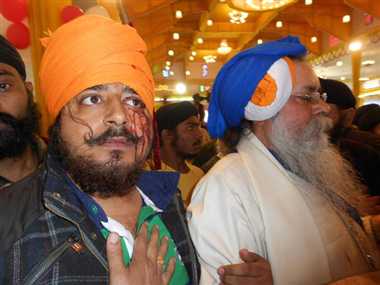 Amritsar, Punjab: The managing committee of Takht Patna Sahib today suspended Giani Iqbal Singh as head granthi, his son and granthi Gurdial Singh. A scuffle between two groups at Takht Sri Patna Sahib yesterday had left several persons injured. Among them were Giani Iqbal Singh and his son. The group led by Baba Kashmir Singh Bhuriwale has filed a police complaint.
The dispute arose over the appointment of Giani Partap Singh as additional head granthi. Meanwhile, a five-member SGPC panel reached Patna Sahib this evening. It will submit a report in two days, said SGPC chief AS Makkar.
"We have formed a three-member committee comprising Gurbax Singh Saluja, Gurdial Singh and Gursharan Singh Chawla to look into the shameful incident. It will submit its report within a week," said president of the Patna Sahib managing committee Ranjit Singh Gandhi on the phone.
Akal Takht chief Giani Gurbachan Singh said strict action would be taken on the report submitted by the SGPC. Sikh Sangat has condemned the incident as "shameful."