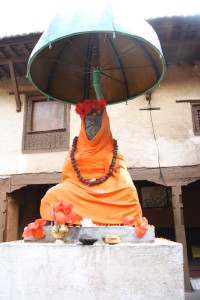 Amritsar, Punjab: The Nepalese Government has agreed to celebrate the birth anniversary of Guru Nanak Dev at Guru Nanak Math, a 400-year-old gurdwara in Kathmandu, on November 17. Pilgrims from all over the world will be allowed to take part in the event.
The government has also accepted the demand of the Sarbat Da Bhala Charitable Trust — headed by SPS Oberoi — about the installation of Guru Granth Sahib and implementation of the Sikh code of religious conduct at the gurdwara in the presence of Akal Takht chief Gyani Gurbachan Singh on November 15.
Interestingly, the land of the 'math' still stands in the name of Guru Nanak Dev. Oberoi said that in 1516, the then Nepal King Raja Jai Jagat Malla of the Malla dynasty had donated 1,600 acres for religious service to the first Sikh Guru.
"As there was no one to take care of the 'math', various encroachments have taken place. Presently, only 34 acres are in the possession of the shrine. However, with the help of the local population and officials, we managed to get access to the original papers signed by the then ruler under the official seal. To ensure no dispute arises about the donation, the king had made his son the witness," he added.
A delegation of Indians headed by Oberoi had been in touch with Nepal's Prime Minister Dr Baburam Bhattarai for past few months to restore the 'maryada' of the gurdwara.
Oberoi said that after a Nepalese court accepted the land donation, the government has, in principle, agreed to allow restoration work at the gurdwara. It has been entrusted to the Sarbat Da Bhala Charitable Trust, which has a registered branch in Kathmandu, and to the local people.
Oberoi said that the Trust had signed an MoU with the Guthi Sansthan of the Nepal Government for the celebrations and the Akal Takht chief would personally monitor those.
A 300-year-old handwritten bir of Guru Granth Sahib (about 1,554 pages) is lying in a cupboard of the gurdwara just like any other book. "We will also try to install Guru Granth Sahib there," he added.
ROYAL GESTURE
The land of the 400-year-old Guru Nanak Math still stands in the name of Guru Nanak Dev. In 1516, the then Nepal King Raja Jai Jagat Malla of the Malla dynasty had donated 1,600 acres for religious service to the first Sikh Guru
Source: The Tribune