Below are the organization, individuals and pracharak groups who supports and requesting all Sikh sangat to reach venue of Sarbat Khalsa.
Bhai Ranjit Singh Dhadrianwale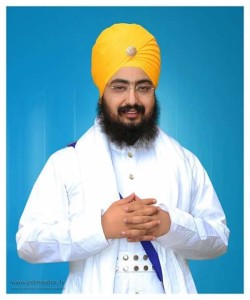 Bhai Ranjit Singh Dhadrianwale have issued a statement in support of Sarbat Khalsa tomorrow on November 10, 2015. The decision came after a meeting of the two Sikh parcharaks where they appealed to Sikhs to arrive in big numbers at the Sarbat Khalsa venue in Amritsar.
Baba Avtar Singh Sur Singh (Bidi Chand Nihang Jatha)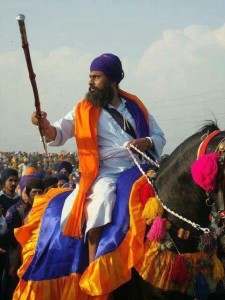 ਬਾਬਾ ਅਵਤਾਰ ਿਸੰਘ ਜੀ ਸੁਰ ਿਸੰਘ ਵਾਿਲਆ ਵੱਲੋਂ ਸੰਗਤਾਂ ਨੂੰ ਸਰਬੱਤ ਖ਼ਾਲਸਾ ਚ ਸ਼ਾਮਿਲ ਹੋਣ ਦੀ ਅਪੀਲ। ਇਸਦੇ ਨਾਲ ਹੀ ਓਹਨਾਂ ਨੇ ਕੌਮ ਨੂੰ ਸ਼ਰਾਰਤੀ ਅਨਸਰਾਂ ਅਤੇ ਸਰਕਾਰੀ ਪ੍ਰਚਾਰ ਤੋਂ ਸੁਚੇਤ ਰਹਿਣ ਦੀ ਅਪੀਲ ਕੀਤੀ ਹੈ ,ਸਿੱਖਾਂ ਨੂੰ 'ਸਰਬੱਤ ਖ਼ਾਲਸੇ' ਵਿੱਚ ਸ਼ਾਮਲ ਹੋਣ ਤੋਂ ਰੋਕਣ ਲਈ ਸਰਕਾਰ ਤਰ੍ਹਾਂ ਤਰ੍ਹਾਂ ਦੇ ਹੱਥਕੰਢੇ ਅਪਣਾ ਰਹੀ । ਗਲਤ ਅਫਵਾਹਾਂ ਫ਼ੈਲਾ ਰਹੀ ਹੈ । ਬੱਸ ਮਾਲਕਾਂ ਨੂੰ ਧਮਕਾਇਆ ਜਾ ਰਿਹਾ ਹੈ । ਮਸੰਦਾਂ ਰਾਹੀਂ ਹੋ ਰਹੇ 'ਸਰਬੱਤ ਖ਼ਾਲਸੇ' ਵਿਰੁੱਧ ਅਖ਼ਬਾਰਾਂ ਵਿੱਚ ਇਸ਼ਤਿਹਾਰ ਲਗਵਾਕੇ ਕੂਡ਼ ਪ੍ਰਚਾਰ ਕਰਵਾਇਆ ਜਾ ਰਿਹਾ ਹੈ । ਅੱਜ ਸਿੱਖ ਕੌਮ ਦੇ ਇਮਤਿਹਾਨ ਦੀ ਵੀ ਘੜੀ ਹੈ । ਸਿੱਖ ਕੌਮ ਪਹਿਲਾਂ ਤੋਂ ਹੀ ਇਮਤਿਹਾਨ ਦਿੰਦੀ ਆ ਰਹੀ ਹੈ । ਸਿੱਖ ਕੌਮ ਨੂੰ ਇਸ ਇਮਤਿਹਾਨ ਵਿੱਚੋਂ ਪਾਸ ਹੋਣਾ ਜਰੂਰ ਵੀ ਹੈ । ਹਰ ਪਾਬੰਦੀ ਨੂੰ ਤੋਡ਼ ਕੇ ਸਿੱਖਾਂ ਨੂੰ 'ਸਰਬੱਤ ਖ਼ਾਲਸੇ' ਵਿੱਚ ਪਹੁੰਚਣਾ ਪੈਣਾ ਹੈ । ਅੱਜ ਹੀ ਚਾਲੇ ਪਾ ਦੇਵੋ ।
Gursant Singh 
Sikhs give support and endorsement of the Sarbat Khalsa 2015, an international meeting of Sikhs in Amritsar on 10th Nov 2015, which has been called in response to the critical issues faced by Sikhs.
Sikh support & endorsement of the Sarbat Khalsa 2015

Sikhs give support and endorsement of the Sarbat Khalsa 2015, an international meeting of Sikhs in Amritsar on 10th Nov 2015, which has been called in response to the critical issues faced by Sikhs. #WakeupSikhs : As we all know the Sikh Kaum is going through a deep crisis with the ongoing acts of flagrant desecration against our Siri Guru Granth Sahib Ji. The corruption and ineptness of the Jathedars is also inexcusable. Unforgivably the Jathedars completely pardoned Ram Rahin the baba who impersonated Guru Gobind Singh Ji. In response the Sikh Panth will convene a Sarbat Khalsa on November 10th 2015, in the Punjab. Again I want to convey my support for the institution of the Sarbat Khalsa and the spirit of the Sarbat Khalsa 2015 called by the Khalsa Panth at Amritsar. I call upon all Sikh organisations and individuals to unite and participate in the Sarbat Khalsa 2015.

Posted by Gursant Singh on Monday, November 9, 2015
Nanaksar Kaleraan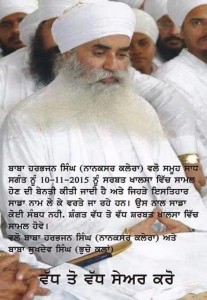 ਸੰਪਰਦਾਇ ਨਾਨਕਸਰ ਕਲੇਰਾ ਵੱਲੋ ਬਾਬਾ ਹਰਭਜਨ ਸਿੰਘ ਅਤੇ ਬਾਬਾ ਸੁਖਦੇਵ ਸਿੰਘ ਭੁੱਚੋ ਵਾਲਿਆ ਵੱਲੋਂ ਅੱਜ ਰਾਤ ਸੰਗਤਾ ਦੇ ਰਹਿਣ ਦਾ ਅਤੇ ਪਰਛਾਦੇ ਪਾਣੀ ਦਾ ਪੂਰਾ ਪ੍ਰਬੰਧ ਠਾਠ ਨਾਨਕਸਰ ਪਿੰਡ ਚੱਬਾ ਵਿਖੇ ਕੀਤਾ ਗਿਆ ਹੈ…. ਨਾਨਕਸਰ ਕਲੇਰਾ ਸੰਪਰਦਾਇ ਦੇ ਸਮੂਹ ਸੰਗੀ ਅਤੇ ਸੇਵਾਦਾਰ ਕੇਵਲ ਤੇ ਕੇਵਲ ਗੁਰੂ ਗ੍ਰੰਥ ਸਾਹਿਬ ਨੂੰ ਤੇ ਪੰਥ ਨੂੰ ਸਮਰਪਿਤ ਨੇ ਸੁਖਬੀਰ ਨੇ ਇਕ ਚਾਲ ਰਾਹੀ ਪਹਿਲਾ ਦਮਦਮੀ ਟਕਸਾਲ ਨੂੰ ਬਦਨਾਮ ਕੀਤਾ ਤੇ ਹੁਣ ਨਾਨਕਸਰ ਨੂੰ ਅੱਜ ਤੱਕ ਬਾਬਾ ਭਜਨ ਸਿੰਘ ਸੁਖਬੀਰ ਨੂੰ ਨਹੀਂ ਮਿਲੇ ਇਕ ਸਾਜਿਸ਼ ਰਾਹੀ ਸੁਖਬੀਰ ਉਹਨਾ ਦੇ ਕਮਰੇ ਤੱਕ ਗਿਆ ਤੇ ਆਪ ਹੀ ਇਹਨਾ ਨੇ ਫੋਟੋ ਵਾਇਰਲ ਕੀਤੀਆ ਨੇ ਆਪ ਹੀ ਅਖਬਾਰਾ ਚ ਇਸ਼ਤਿਹਾਰ ਦਿੱਤੇ ਗਏ ਨੇ