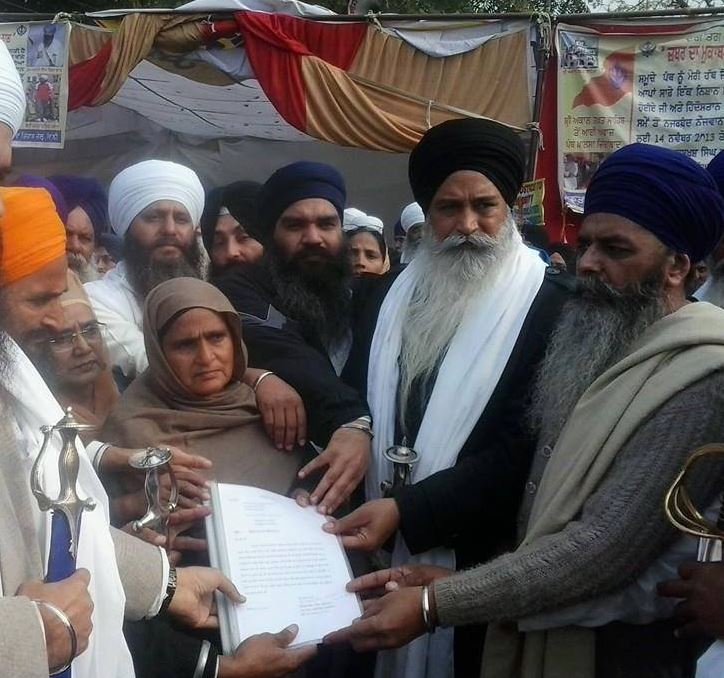 Amritsar, Punjab: Gurbaksh Singh Khalsa who is sitting on fast unto death demanding the release of former Sikh militants who had completed their jail sentences, has sent his will for the donation of his body to Sikhs supreme temporal seat on Wednesday evening.
The will of Gurbaksh Singh, who enjoys the support of Sikh Sangat, was handed over to the jathedar of Akal Takht Giani Gurbachan Singh by representatives of various Sikh religious organizations including president of breakaway faction of Damdami Taksal Giani Ram Singh, Bhai Amrik Singh, president of United Sikh Movement, Mohkam Singh, etc.
In a letter addressed to jathedar of Akal Tkaht, Gurbaksh Singh said that it was up to Akal Takht to whom it may donate his organs after his death. The letter also enclosed a registered will for the donation of his body. "I have been supporting the cause for which Gurbaksh Singh is sitting on fast unto death from the beginning and have also been expressing my views and concerns about Sikhs languishing in jails," said jathedar of Akal Takht, Giani Gurbachan Singh, while talking to TOI on Wednesday late evening. He said Gurbaksh Singh had sent his will and Akal Takht honoured his feelings and sentiments but to continue the struggle his life was more important.
The jathedar advised Gurbaksh Singh to not say no to medical treatment. "He may eat food after the release of Sikhs from jails but he should take medical assistance," he said, adding that since the issue involved various legalities which could delay the release of Sikhs for a day or two. He also asked the Sikh sangat to perform ardas for the wellbeing of Gurbaksh Singh. In reply to a question that fasting was not acceptable in Sikhism, the jathedar replied, "He should be healthy and it is must for the Panth." He also informed that efforts were being taken up at the highest level for the release of Sikhs, adding that Shiromani Gurdwara Parbandhak Committee president Avtar Singh Makkar had held three meetings with the chief minister on the issue.
Gurbaksh Singh's wife, Bibi Jasbir Kaur said that Gurbaksh Singh's health had been deteriorating with every passing day as he had not been taking food or water for past 35 days. Mohkam Singh urged the government to take quick action with respect to the release of Sikhs and for saving Gurbaksh Singh's life.