Fatehgarh Sahib, Punjab: Braving cold, devotees throng Fatehgarh Sahib gurdwara for Shaheedi Samagam.
Braving fog and bitter cold, lakhs of devotees, from various parts of the country and abroad, thronged the historic gurdwara here today to mark the 309th martyrdom of the two younger sons of Guru Gobind Singh.
The Shaheedi Samagam began with akhand path by head granthi Harpal Singh at Gurdwara Jyoti Sarup. The two-day Shaheedi Jor Mela will begin tomorrow.
The district police has made elaborate security arrangements for the mela. The district police chief, addressing the media, said the town had been divided into five sectors.
Barricades had been raised so that devotees did not face any inconvenience in reaching the shrine. Setting up kiosks along the road from Gurdwara Jyoti Sarup to Fatehgarh Sahib Gurdwara had been prohibited.
Meanwhile, workers of various parties, including the People's Party of Punjab, are leaving no stone unturned for a show of strength at their respective conferences tomorrow.
It will be for the first time that the People's Party of Punjab (PPP) will be holding its conference at the Shaheedi Jor Mela.
Sources said various Panthic issues, including the release of Sikh detainees lodged in various jails, will dominate the conference of the Simranjit Singh Mann-led Shiromani Akali Dal (Amritsar). The Sikh high priests have already issued an appeal to politicians not to politicise the religious event.
Elated with the Aam Aadmi Party (AAP) win in the Delhi Assembly elections, PPP workers are expecting a big crowd at their conference that will be addressed by Manpreet Badal tomorrow. State Chief Minister Parkash Singh Badal and Deputy CM Sukhbir Badal will address the SAD conference. Kuljit Nagra, local Congress MLA, and Harinder Bhambhri, District Congress Committee (DCC) president, are making arrangements for the Congress conference that will be addressed by Partap Singh Bajwa, PPCC chief, and former Chief Minister Capt Amarinder Singh.The BSP, Sikh Students Federation and Dal Khalsa will also be holding their conferences.
Demand for holiday
Former Deputy Speaker Bir Devinder Singh said today that it was "extremely unfortunate" that the state government had not deemed it important to declared a gazetted holiday on the Martyrdom Day of Sahibzada Zorawar Singh and Sahibzada Fateh Singh. He pointed out that the Badal Government had declared a holiday for much less significant occasions.
"This is an unpardonable lapse by the government. Even the SGPC failed to take note of the lapse and take up the issue with the Punjab Government," he said.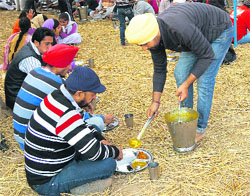 A devotee serves langar to devotees at Fatehgarh Sahib gurdwara on Wednesday. Tribune photo: JS Virdi
Measures in place
The town has been divided into five sectors
Each sector is being headed by an SP-rank officer
CCTV cameras have been installed to keep a close watch on anti-social elements
As many as 46 nakas, 19 free parking sites, seven police assistance booths and 10 check barriers have been set up
Twelve SPs, 28 DSPs and 3,000 police personnel have been put on duty for the occasion
NSS and NCC volunteers too will lend a helping hand
The main traffic has been diverted to link roads and no 

vehicle is being allowed at the mela site
Barricades have been raised so that devotees do not face inconvenience in reaching the shrine
The administration has banned kiosks along the road from Gurdwara Jyoti Sarup to Fatehgarh Sahib gurdwara
It will be the first time that the Manpreet Badal-led PPP will hold its conference at the Jor Mela on Thursday
The SAD, SAD-Amritsar and the Congress will also hold their conferences that will be addressed by their leaders
 A large number of community kitchens have already started serving langar to devotees
Source: The Tribune